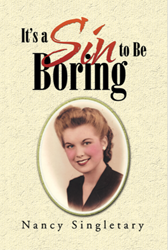 This book is as true to life as any fiction can be and as true to history as the events themselves.
Mayo, FL. (PRWEB) July 13, 2015
Throughout the many decades, we have watched history unravel. Individuals have lived through different trying times with many dramatic events. Have you ever questioned what actually happened? Are you tired of learning about history through individuals who didn't personally experience what they are talking about?
Because of this, Nancy Singletary has decided to publish It's a Sin to Be Boring, a historical biography that hones in on a time where she lived and events that happened right in front of her very own eyes.
In this historical fiction, readers will follow the life of Rebelle Palatine, a model at a major department store in New York City. While there, she not only witnesses the historical happenings of The Battle of the Bulge, but she is also living in the Progressive Movement. In these moments, Rebelle learns simple life lessons that lead her to understand how her actions have consequences.
"This book is as true to life as any fiction can be and as true to history as the events themselves. The reader will discover that the chapters in this book are thought provoking too," Nancy said.
From It's a Sin to Be Boring, readers will feel the essence of time and history that has direct effects on the decisions that were made by the characters.
"Even if the reader is unaware of the Progressive Movement or current events, this book can illuminate the magnitude of cause and effect leveraged from the smallest choices an individual or country may make," Nancy said.
The historical references and mature biographical threads throughout It's a Sin to Be Boring make it an exceptional read, as well as a truthful reference for history buffs.
It's a Sin to Be Boring
By: Nancy Singletary
ISBN: 978-1-5035-6005-5
Available in softcover, hardcover, e-book
Available on Amazon, Barnes & Noble and Xlibris
About the author
Along with her book, It's a Sin to Be Boring, Nancy Singletary is also the author of an industrial article, "What's the Value or Earned Value," and the editor of Singletary, Herrin: Arthur's Book. Nancy has had extensive experience in project management, which led to her working in several government agencies and business entities on a variety of programs. Since being retired, she has taught at a public school in Florida and currently tutors students at her small-town bookstore.
# # #
**FOR IMMEDIATE RELEASE**
For review copies or interview requests, contact:
Katie Wenclewicz
317.602.7137
kwenclewicz(at)bohlsengroup(dot)com