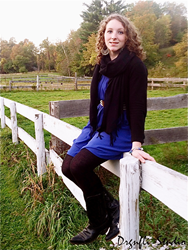 The goals I set for myself sometimes lead me through many challenging experiences. If I made it through the past six years, then I can make it through anything.
Lenexa, Kan. (PRWEB) July 28, 2015
The International Essential Tremor Foundation (IETF) is pleased to award a $500 scholarship to student Hannah Spence from Colchester, Vt., for the 2015-2016 academic year. Spence is one of four students from across the nation to receive a scholarship award from the IETF.
As an incoming freshman to the University of Vermont's School of Nursing Program, Spence is ready to tackle the challenges of living with her essential tremor while majoring in Exercise and Movement Sciences. "The goals I set for myself sometimes lead me through many challenging experiences," Spence said. "If I made it through the past six years, then I can make it through anything."
During high school, Spence excelled inside and outside of the classroom. Spence was active with her high school concert choir, track and field team and National Honor Society, all while keeping a 4.0 GPA. She also took on the role as the school mascot to promote school spirit and teamwork at home sporting events. "Being the high school mascot, leading a crowd of people in the stadium, increases my self-esteem and confidence. No one can see my movement disorder when I'm in a costume," she said.
She also volunteers for several community events and programs including the Colchester Farmers Market, the Vermont City Marathon and the Good Hope Farm: Champlain Adaptive Mounted Program – a program dedicated to providing horseback riding experiences for people with special needs.
Essential tremor is a neurological condition that affects more than 10 million Americans. ET causes rhythmic shaking of the hands, head, and voice. ET is often misdiagnosed as Parkinson's disease, although eight times more common. ET is characterized by action tremor, making everyday tasks such as eating, drinking, and writing difficult if not impossible. There is no cure for this life-altering condition.
IETF scholarships are awarded to qualified students of all ages who have been diagnosed with ET, to lessen the burden of higher education. The scholarship can be used for supplies, books or tuition at licensed, accredited institutions of higher education (including trade schools) and are paid directly to the educational institution. For more information about the IETF scholarship program, please visit http://www.essentialtremor.org/about-the-ietf/scholarships.
About The International Essential Tremor Foundation:
Headquartered in Lenexa, KS, and founded in 1988, the International Essential Tremor Foundation is the leading organization in the world dedicated to those affected by essential tremor. The mission of the IETF is to fund research that will find the cause of essential tremor and lead to better treatments and a cure, increase awareness about ET, and provide educational materials, tools and support to healthcare providers, the public, and those directly affected by ET.
The IETF has distributed more than $830,000 in research grants, to fund 33 promising studies, in the search for the cause of ET. The Foundation has hosted numerous community awareness events across the U.S. to provide those affected with the basic knowledge necessary to become their own advocate when seeking treatment. And, the IETF also provides assistance to a vast network of support groups around the world. To learn more about essential tremor and the IETF mission, visit the IETF website at http://www.essentialtremor.org.