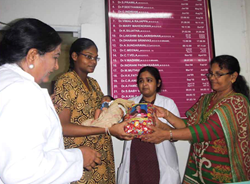 Many do not understand the full value of breastfeeding, so it is our concern to promote it in any manner, so as to raise healthy babies.
Amarillo, Texas (PRWEB) July 17, 2015
The World Health Organization estimates that 1.5 million infants die each year worldwide from not being breastfed. The rate of infant mortality is highest in developing countries, especially among families living in extreme poverty. To address this need, and in honor of World Breastfeeding Week and National Breastfeeding Month, Praeclarus Press is proud to partner with Shabnam Resources in Chennai, India, in their work to promote breastfeeding in poverty-stricken neighborhoods.
The program consisted of a full-day conference hosted by the Loyola Matriculation Schools and Fatima Church, Kodambakkan, Chennai. Shabnam Executive Director, Michael Hubert, spoke to the audience of teachers about the importance of supporting breastfeeding in poor neighborhoods, urging them to join the "silent revolution." Pediatrician and lactation consultant, Dr. Shuba Karthik, spoke for the rest of the day about the health benefits of breastfeeding and answered many questions from the audience about special situations.
Additionally, they visited five more schools, working with teachers who would be working directly with low-income mothers in the slums. Michael Hubert also had the opportunity to address 75 master's students in social work about the importance of breastfeeding and was able to address many myths about breastfeeding. The program concluded with the delivery of special gift packs at the local hospital to low-income mothers who had just given birth. These packs included a new towel, a stainless steel container to hold food, small packs of dry foods, and a baby wrap to keep the babies warm. The program expanded to mothers living in the outer city areas.
Sponsorship of this program is part of Praeclarus Press' commitment to giving back to the community by supporting programs that reach out to mothers and babies in the U.S. and other parts of the world. This program celebrates both National Breastfeeding Month and World Breastfeeding Week. Shabnam Resources Trust is a registered non-profit charity focusing on children's and young mothers' welfare in rural and semi-urban areas in India. Shabnam means the first refreshing rain after a dry spell. It is based in Chennai, India.
Praeclarus Press is a small press specializing in women's health owned by health psychologist and lactation consultant, Kathleen Kendall-Tackett, PhD, IBCLC, FAPA. Praeclarus means excellent. Praeclarus Press' mission is to provide books and other educational materials that change women's lives. Praeclarus Press is based in Amarillo, Texas. A portion of all sales go to support programs like this.