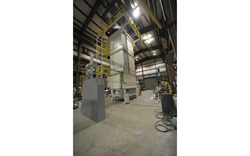 This drying oven not only shows our experience with composites, it's a testament to our commitment to safety.
Chattanooga, Tennessee (PRWEB) July 14, 2015
Davron Technologies, Inc. recently designed and manufactured the DTI-1182, a 45'2"-tall vertical drying oven used to heat composite web product up to 40" wide, removing moisture from the web material via heated evaporation.
Three applicator tanks are located under the drying oven's heated chamber. Each tank applies solvents to the web as the web passes through the heated chamber. Each applicator tank includes a pneumatic system to raise the tank to the "in use" position or lower the tank when not in use or for cleaning.
Moisture is removed from the web material during three vertical passes through the drying oven, which is heated with a modulating natural-gas burner that can sustain temperatures between 292° and 392° F. Airflow is configured so that heated air is impinged to the product web face and between the vertical passes within the heated chamber.
Built into the drying oven is an edge rotary knife that trims both sides of the web as it exits the oven chamber. A small amount of powder is applied to the web to prevent the web from sticking together when rolled up on the take-up roll.
"This drying oven not only shows our experience with composites, it's a testament to our commitment to safety," said Jimmy Evans, Davron Vice President. "We included a system of platforms, safety ladders, and handrails, as well as eight access doors, to provide easy access to the heating chamber — necessary precautions for a vertical oven that is so tall."
Visit http://www.davrontech.com for more information about Davron's drying ovens for the composites industry. Or, if you'd like to discuss your own industrial oven project, please call Davron's Vice President, Jimmy Evans, at (888) 263-2673, or fill out Davron's online quotation form.
About Davron Technologies, Inc.
Davron Technologies, Inc. custom fabricates industrial ovens, providing turnkey design and system integration services to develop thermal processing solutions. Davron is a total industrial oven manufacturer, creating custom industrial ovens and precision process equipment for every industry that requires thermal processing. Each Davron industrial oven is custom built according to customers' unique specifications. As the Provider of Industrial Oven Solutions, Davron offers one of the largest selections of in-house and on-site industrial oven services in the world.
###