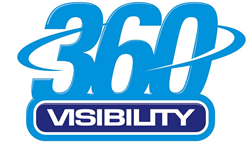 Toronto, ON (PRWEB) July 10, 2015
360 Visibility, a Microsoft technology partner for 12 years, is delighted to have been included in such an esteemed shortlist.
"We're thrilled to have been named a finalist for Microsoft Canada's IMPACT Awards," 360's executive vice-president Marco D'Ercole, says. "Microsoft's confidence in our organization is very meaningful to us."
The IMPACT awards will take place on July 12 at the Four Seasons in Orlando, FLA, as part of the Worldwide Partner Conference (WPC) — an annual event designed to celebrate the achievements of Microsoft's partners, system integrators and service providers — and the winners will be announced then.
About Microsoft Canada:
Established in 1985, Microsoft Canada Inc. is the Canadian subsidiary of Microsoft Corporation the worldwide leader in software, services and solutions that help people and businesses realize their full potential. Microsoft Canada provides nationwide sales, marketing, consulting and local support services in both French and English. Headquartered in Mississauga, Microsoft Canada has nine regional offices across the country dedicated to empowering people.
About 360 Visibility
360 Visibility is a business solutions company that's dedicated to enabling enterprise participants make swift, well-informed and lucrative business decisions. The Toronto-based organization provides clients with enterprise software, access to cloud technology, and property management software and IT infrastructure services aimed at facilitating a course of effective, profitable, pitfall-free corporate management. Its software repertoire features Microsoft Dynamics NAV, Microsoft Dynamics GP, Microsoft Dynamics CRM, Microsoft Office 365 and Windows Azure. 360 has also developed proprietary property management software, 360 Property Manager, that's powered by Microsoft Dynamics NAV.
For corporate inquires, contact:
Julissa Fonseca
360 Visibility
Phone: 905.907-3600
Fax: 905.907.3601
jfonseca(at)360visibility.com
http://www.360visibility.com