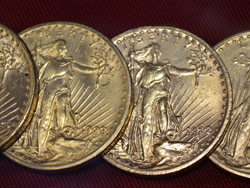 Rosemont, Illinois (PRWEB) July 31, 2015
The public is invited to have questions about their old coins and currency answered and buy and sell rare coins and paper money with some of the country's top numismatic experts, Saturday to Monday, August 8 – 10, 2015, in Hall F of the Donald E. Stephens Convention Center in Rosemont, Illinois.
A drawing will be held each day to give away to a lucky visitor a United States Double Eagle one-ounce gold coin.
The three-day PNG/ANA Numismatic Trade Show (http://www.pngdealers.org/events) will be conducted by the Professional Numismatists Guild (PNG) and the American Numismatic Association (ANA). It will be in the same location and immediately before the ANA Chicago World's Fair of Money.
More than 50 of the country's top coin and currency dealers will be at the PNG/ANA Numismatic Trade Show, buying and selling rare coins, colorful paper money, and gold and silver. Many of the dealers will provide free, informal appraisals of the public's old coins and currency.
Public hours will be Saturday, August 8, from 10:00 am to 6:00 pm; Sunday, August 9, from 9:00 am to 6:00 pm; and Monday, August 10, from 9:00 am to noon.
Admission is $10; however, free admission coupons are available online at http://www.pngdealers.org/images/COUPON.pdf
"We estimated the overall coin market in the U.S. last year at about $5 billion, including auctions and private transactions made at coin shows, sales by mail order, online and at coin stores," said Terry Hanlon, PNG President.
"Many investors and collectors see a good buying opportunity with some of their profits taken from the past year's increase in stock prices being reinvested in rare coins. There's also the continuing interest in hard assets with the confidence that rare coin values will grow with the success of the economic conditions, even as precious metals themselves may be declining," Hanlon explained.
Founded in 1955, the Professional Numismatists Guild is composed of many of the country's top rare coin and paper money dealers. PNG member-dealers must adhere to a strict code of ethics in the buying and selling of numismatic merchandise. A complete listing of PNG member-dealers is available online at http://www.PNGdealers.org.
For a copy of "The Pleasure of Numismatics," an informative, ten-page illustrated educational booklet about collecting rare coins, paper money, tokens and medals, send $1 to: Professional Numismatists Guild, 28441 Rancho California Road, Suite 106, Temecula, California 92590.
For additional information about the Professional Numismatists Guild, visit online at http://www.PNGdealers.org or call the PNG headquarters in Temecula, California at (951) 587-8300.