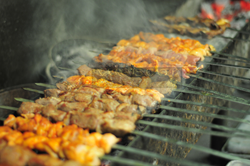 According to the cafe, in addition to the shish kebabs, grilled fish, grilled lamb chops and grilled cornish hen are also popular summer meals. New draft beers have also been added.
Brooklyn, NY (PRWEB) July 15, 2015
There's no doubt that, in many ways, Brooklyn is a culinary cultural crossroads. Some of the finest foods are represented from across the world, and Central Asia is no exception. Enter Nargis Cafe, which offers Central Asian cuisine with a focus on Uzbek food that has been widely well reviewed. Nargis Cafe recently announced they have launched their new summer menu with some exciting additions, including the much-beloved shish kebabs, an ideal pairing with any of the cafe's traditional lunch or dinner choices. Customers couldn't be happier.
"We're very excited about our summer menu and I think our customers will be too," commented Chef Bangiev, who is also the owner of restaurant. "Our additions are perfect for summer, plus we've kept our old favorites as well. We're looking forward to impressing our guests old and new."
According to the cafe, the shish kebabs, grilled fish, grilled lamb chops and grilled cornish hen are also popular summer meals. New draft beers have also been added. Chicken Kebabs, Beef Kebabs, Lamb Kebabs, Lamb Rib Kebabs are just some of what the menu offers. Very inexpensively priced, they make great additions to other meals as a side dish.
Open since 2007, Nargis Cafe is well known as Brooklyn's most authentic place to eat traditional Central Asian food. Some of these classic dishes that have turned many casual guests into lovers of Uzbek cuisine include: "Manti" and "Bojon" salads; "Plov," featuring lamb meat, carrots, chickpeas and rice; "Samsa," steamed meat dumplings; "Lagman," diced meat, homemade noodles and vegetables; and "Shurpa," meat broth with vegetables.
The cafe is located at 2818 Coney Island Ave. Brooklyn, NY 11235.
Feedback from guest continues to be remarkable.
Simona G., from Forest Hills, recently said in a five star review, "This place rocks. It's located near the neighborhood where I grew up, so my family has been coming to Nargis for years. Let me tell you. First of all, the 'shashlik' aka kebabs, are down right out of control. Second, the potatoes with mushrooms, third samsa. The list goes on. Everything is so so so good. Two serious highlights: the sauce the serve you with the kebabs. Every time we go there, I buy a giant tub to go. I put that on everything!"
About Nargis Cafe
Located at the intersection of Avenue Z and Coney Island Avenue, the Nargis Cafe has been serving Central Asian and Uzbek cuisine to the Sheepshead Bay neighborhood since 2007. The restaurant is a popular fixture in the Brooklyn neighborhood, thanks to its authentic Central Asian cuisine and atmosphere. The Nargis Cafe has been featured in the New York Times, the Village Voice, and on television for the Cooking Channel and even FX, as a location shot for the hit show "The Americans."
Contact:
Nargis Cafe
2818 Coney Island Ave.
Brooklyn, NY 11235
Phone: 1-718-872-7888
Email: chef(at)nargiscafe(dot)com
Twitter: https://twitter.com/NargisCafe
Facebook: https://www.facebook.com/nargiscafe