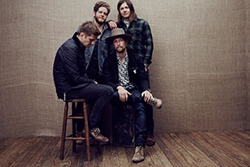 Lynchburg, Va. (PRWEB) July 10, 2015
Some of the biggest names in Christian music will take the stage at Liberty University's Winterfest 2015, including NeedtoBreathe, Casting Crowns, For King & Country, Colton Dixon, Burlap to Cashmere, Matthew West, Rend Collective, and Thousand Foot Krutch.
The lineup was announced this week for the largest Christian New Year's party on the East Coast, which also features guest speakers Clayton King, president of Crossroads Worldwide, and David Nasser, senior vice president for Spiritual Development at Liberty.
Presale tickets are now on sale for the event, with discounted pricing running from July 9-20.
In addition to live performances leading up to a 2016 countdown, guests can also attend Q&As with the artists.
Aside from the main stage entertainment, Winterfest offers a variety of campus recreation, including skiing, snowboarding, and tubing at Liberty Mountain Snowflex Centre as well as skateboarding, inline skating, and BMX at Liberty Mountain Skatepark. Guests can also ice skate in the newly renovated LaHaye Ice Center or enjoy a number of indoor activities such as basketball, volleyball, soccer, swimming, or rock climbing at the LaHaye Fitness and Recreation Center.
Guests can also win prizes like T-shirts, a GoPro video camera, a guitar signed by the artists, or a $16,500 Liberty scholarship.
Group tickets are available. For more information or to purchase tickets, visit http://www.LibertyWinterfest.com or call (866) 447-2084.
About Liberty University
Liberty University, founded in 1971, is the largest private, nonprofit university in the nation, the largest university in Virginia, and the largest Christian university in the world. Located near the Blue Ridge Mountains on more than 7,000 acres in Lynchburg, Va., Liberty offers more than 450 unique programs of study from the associate to the doctoral level. More than 200 programs are offered online. Liberty's mission is to train Champions for Christ with the values, knowledge, and skills essential for impacting tomorrow's world.