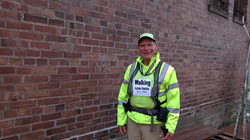 Silver Spring, Md. (PRWEB) July 10, 2015
Medal of Honor Recipient, Staff Sergeant Clint Romehsa, is meeting up with 79-year-old 'Pacing Parson' Don Stevenson in Minot, ND to join his walk to raise awareness and money for the Pulmonary Hypertension Associatio n (PHA). Romseha will walk with Stevenson through his hometown of Minot, ND, on Saturday, July 11. They plan to start walking from the Denny's in Minot at 10 a.m. Stevenson began his cross-country walk in Washington State in June expects to arrive at PHA's headquarters near Washington, D.C. by mid-September. He has already walked over 1,000 miles on this journey.
President Obama bestowed the Medal of Honor on Romesha in February of 2013 for courageously defending a remote American outpost in eastern Afghanistan from attack by more than 300 Taliban fighters. Stevenson is a U.S. Marine and retired minister who earned the nickname, "the Pacing Parson," in his hometown of Auburn, Wash. Romesha says he is honored to walk with Don to raise money for PH.
The three-month, 30-mile-a-day trek is the 20th charity walk in two decades for Stevenson. Stevenson had planned to hang up his charity walking shoes last year. Earlier this year, he lost a friend and fellow church member to PH, learned another friend with the disease is fighting for her life, and received news that a teenager with PH for whom he raised money is now recovering from a lifesaving heart and lung transplant.
PH is incurable and life threatening, as it can lead to failure of the right side of the heart as it pushes hard to get blood through arteries in the lungs narrowed by the disease. Without treatment, the average survival time is 2.8 years; and with symptoms that include shortness of breath, fatigue and fainting, PH too often looks like asthma or other less threatening illnesses.
PHA relies on donations to fund patient and caregiver support services, PH public awareness and medical education programs, specialty care resources and research to find ways to prevent and cure the disease. For 12 consecutive years, PHA has received the highest rating—four stars—for fiscal accountability and transparency from Charity Navigator, placing it in the top one percent of all rated charities.
Stevenson, who takes Sundays off to rest, is following a route along Highway 2 across the northern part of the U.S. At the end of each day, he catches up with his wife, Loretta, who drives ahead and secures overnight accommodations, often donated by hotels when they learn about the Pacing Parson's long charity walk.
PHA is using social media to urge individuals and organizations to support Stevenson through sponsorships and online donations. PHA is chronicling Stevenson's journey on social media while inviting people to walk with him and capture the experience via photos and short video clips.
Donors can support Stevenson by going to http://www.o2breathe.org/ThePacingParson. You can follow his journey @PHAssociation on Twitter and Pulmonary Hypertension Association on Facebook. PHA asks supporters to add #PacingParsonPHA to their social media posts.
About the Pulmonary Hypertension Association
Headquartered in Silver Spring, Md., the Pulmonary Hypertension Association (PHA) is the country's leading pulmonary hypertension organization. Its mission is to find ways to prevent and cure pulmonary hypertension and provide hope for the community through support, education, research, advocacy and awareness. PHA does this by connecting and working together with the entire PH community of patients, families and medical professionals. Among its programs, PHA facilitates more than 245 support groups around the country and delivers continuing education for medical professionals through PH Online University. For more information, please go to PHAssociation.org.
# # #