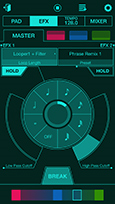 NASHVILLE (PRWEB) July 16, 2015
Yamaha announced the introduction of the free Synth Book 2.0 iOS app.
First introduced in conjunction with the 40th anniversary of Yamaha synthesizers, the app includes a complete history of Yamaha synths and a sophisticated, programmable and integrated virtual analog soft synth and drum pattern player with a large library of voices and patterns for creating songs and grooves. It also serves as a portal to a number of online resources and synth communities, including YamahaSynth.com. The app can also be used with an MOXF as an external tone generator.
New to version 2.0 is a DJ style music remixer function, which offers a fun way to create and remix music with the app. Synth Book 2.0 also comes with built-in DSP effects and flexible routing options via Inter-App Audio and Audiobus.
For more information about the app, please visit http://4wrd.it/synthbook2.
-END-
About Yamaha
Yamaha Corporation of America (YCA) is one of the largest subsidiaries of Yamaha Corporation, Japan and offers a full line of award-winning musical instruments, sound reinforcement and home entertainment products to the U.S. market. Products include: Yamaha acoustic, digital and hybrid pianos, portable keyboards, guitars, acoustic and electronic drums, band and orchestral instruments, marching percussion products, synthesizers, professional digital and analog audio equipment, Steinberg recording products and Nexo commercial audio products, as well as AV receivers, amplifiers, Blu-ray/CD players, iPod docking systems, home-theater-in-a-box systems, earphones, headphones, sound bars, and its exclusive line of Digital Sound Projectors. YCA markets innovative, finely crafted technology and entertainment products and musical instruments targeted to the hobbyist, education, worship, professional music, installation and consumer markets.