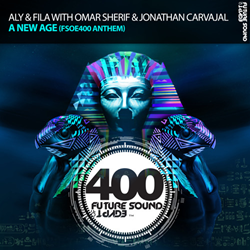 This tune is undoubtedly suited for peak time on a packed dancefloor.
New York, NY (PRWEB) July 13, 2015
Egyptian electronic dance music (EDM) DJs and producers, Aly & Fila, are amongst the hardest working guys in the music space. After having just announced their Future Sound of Egypt 400 (FSOE400) world tour earlier this week, the duo are back with the official release of their latest single, Aly & Fila with Omar Sherif & Jonathan Carvajal, "A New Age" (Future Sound of Music/Armada Music). The track is out now and is characterized by a distinctly Egyptian sound.
The Original Mix packs a powerful punch with a hearty four-on-the-floor beat that enters to set the tone of this driving track as it builds to its first wave of bassline-driven euphoria. Aly & Fila prove their muscle as they put the pedal-to-the-metal with this high-energy production. The minor-chord electronic string progression leads to an intense build-up of synths until the breakdown crashes down like a sonic shower. This club-driven, vocal-less track is at once thrilling and mysterious.
The Radio Edit wastes no time and dives deep into the heart of the track with the beat coming-in at brute force against strumming, rhythmic strings. Background vocal effects form a foundation for the signature string progression while the main build-up and breakdown maintains center stage. This tune is undoubtedly suited for peak time on a packed dancefloor.
Aly & Fila (real names: Aly Amr Fathalah and Fadi Wassef Naguib) are Egyptian electronic dance music DJs and producers known for a style of electronic music known as uplifting trance. In the recording studio, they create enigmatic-sounding, evocative music characterized by resonant basslines, driving percussion and opulent harmonies for an uplifting trance sound that has come to be irresistible to their devoted global fanbase. Each year, Aly & Fila perform more than 100 live shows at leading nightclubs and festivals around the world; their weekly radio show, Future Sound of Egypt (FSOE), is broadcast on terrestrial, satellite and Internet radio in more than 30 countries on 40 radio stations and counting.
For more information on Aly & Fila, Armin van Buuren, Andrew Rayel, Armada Music and more, contact EMILY TAN Media Relations (U.S./North America), +1(917) 318-3758, EmilyEmilyTan(at)aol.com and visit http://www.ArmadaMusic.com and http://www.AlyandFila.com. Follow EMILY TAN Media Relations on Twitter @EmilyEmilyTan.
# # #