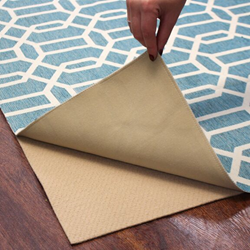 Los Angeles, CA (PRWEB) July 10, 2015
Ruggable announces their 5x7 rugs are now available at 100 Lowes stores in California, making it easier for customers to find their products or get additional designs for their Ruggable systems.
Ruggable is changing the rug industry with easy to care for rugs that come apart and can be washed in the washing machine, much like a bedspread. Instead of spending hundreds of dollars each year to get rugs cleaned and maintained, customers are able to clean their rugs, or change them out to accommodate different styles and seasons. With the introduction of their product to Lowes, many more customers will have the opportunity to check out the quality of Ruggable rugs and how they can fit into the décor of their home.
"We're excited to have such a reputable store carrying our rugs," Jeneva Bell, the Ruggable founder stated. "Lowes is a seasoned, leading retailer that recognizes the need for a solution to affordably keep rugs clean by carrying our Ruggable two-part system that can be thrown in the washing machine."
Ruggable is the first solution based area rug meeting the needs of families with children and pets. The ability to wash the ruggable in a standard home wash machine and dryer keeps the rug fresh and clean without the need of professional cleaning services.
Ruggable 2-Piece System Rugs are unlike other rugs on the market:

Machine washable
Available in popular patterns and colors
Versatile for any room
Much more affordable than standard rugs
Rug pad underneath makes removing the top cover for washing easy
"With our rugs on display at Lowes, customers can see first-hand the quality of Ruggable rugs," added Bell.
Ruggable was created when Jeneva Bell got frustrated with the expense and inconvenience of hiring a professional rug cleaner. Desiring a rug that was easily washable, she realized that she would have to invent one, as there was nothing currently available on the market. After creating her two-piece system, she decided to make Ruggable interchangeable, so that people could update their rug or change their décor with ease.
For samples or additional information, please visit http://www.ruggable.com or contact chelsea(at)chicexecs(dot)com
Contact:
ChicExecs PR
http://www.chicexecs.com
1487 Poinsettia Ave. Ste. 125
Vista, CA 92081
310.569.6586
ChicExecs PR is an "out of the box" PR company which represents over 70 clients. ChicExecs has created an innovative approach to PR dedicated to helping small-medium businesses receive media coverage. Our revolutionary automated system is changing the face of PR. To learn more about ChicExecs visit http://www.chicexecs.com.