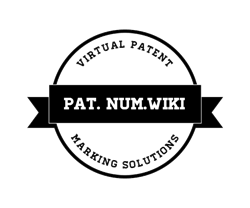 "...the USPTO concludes that virtual patent marking has likely met its intended objectives..." (Report to Congress - Sep. 2014 "Report on Virtual Marking"
(PRWEB) May 06, 2016
What is Pat. Num.wiki?
Registered trademark Pat. and Num.wiki form a "virtual mark" in accordance with the patent marking statute 35 U.S.C. 287. If (1) a U.S. patent number is associated with a patented article, (2) the patented article is marked with "PAT." followed by "Num.wiki", (3) the associated patent is registered on the Num.wiki website, and (4) is available for public view without charge, the patented article complies with statute 35 U.S.C 287. Compliance with the statute provides legal notice that the article is patented.
Also available is the option to mark with "PAT. no.fyi"
How does virtual patent marking with "Pat. num.wiki" protect my patented products?
Virtual patent marking helps to ensure potential infringers are on constructive notice of the existing patents. A num.wiki mark and subscription aids in the recovery of maximum money damages from copycat infringers while also easing concerns over potential false marking claims.
What are the advantages of a Num.wiki virtual marking subscription?
A Num.wiki virtual marking subscription provides a number of benefits over traditional patent marking. One significant advantage is that the patent owner can avoid the expense and effort required to update and maintain patent information on its products. Rather than retooling its manufacturing process or changing product packaging every time a patent issues or expires, the patent owner can simply update the patents and/or patent applications associated with the product.
Num.wiki subscription features:
Unlimited number of patent numbers and/or patent application numbers per registered article.
Automatic patent term calculation.
Patent expiration and patent application abandonment alerts.
Product/patent disassociation when a patent expires or an application is abandoned.
Patent maintenance fee reminders.
Patent pending status for provisional, U.S., and PCT patent applications.
U.S.P.T.O Office Action reminders.