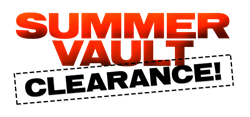 This is by far one of our biggest clearance events of the year!
AUSTIN, Texas (PRWEB) July 11, 2015
With summer in full bloom, the Liquidation Channel (LC) is excited to announce the return of the Summer Vault Clearance, one of the most anticipated and popular sales event of the year. This 7-day clearance event starts on Sunday, July 12 through Saturday, July 18, and will feature hundreds of new arrivals all at clearance prices.
LC's Summer Vault Clearance only happens once a year and is expected to be one of the biggest saving events of the year, offering up to 90 percent off stunning gemstones, jewelry, and accessories. LC is clearing the vault – everything must go in order to make room for fall.
LC President, Gerald Tempton, says, "This is by far one of our biggest clearance events of the year! Customers have been anticipating this spectacular event all year, so we wanted to make this year even more exciting and special than the last. This is a great opportunity for customers to catch the wave of savings and get their hands on these unbelievable deals!"
The Summer Vault Clearance will be showcasing special deals all week long. To get in all these amazing deals or for more information simply visit http://www.Liquidationchannel.com or http://www.facebook.com/shoplctv.
For More Information Contact:
Carolina Sandoval
Marketing Specialist
512- 901-0621
carolina.sandoval(at)liquidationchannel(dot)com
About Liquidation Channel: Liquidation Channel (http://www.liquidationchannel.com) is an Omni-channel business comprised of a home shopping TV network, an ecommerce business, and an outside sales/wholesale segment. It is a global leader in direct sales of colored stones, diamonds, precious metals, and a variety of luxury goods and innovative products. LC specializes in delivering Exceptional Quality, Exquisite Designs, and Outstanding Value, while providing a low-price guarantee on each of its products. The channel's unique jewelry is available online at LiquidationChannel.com and on DirecTV Channel 75 and 226, Dish Network Channel 274, Verizon FIOS Channel 159, ROKU, AT&T U-Verse 399 and 1399 (HD), and local cable channels.