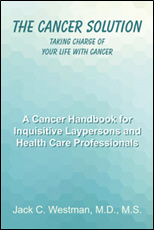 Take Charge of Your Life with Cancer
Madison, Wisconsin (PRWEB) July 12, 2015
Book reviewer Richard Blake notes that Dr. Jack C. Westman, M.D, M.S, opens his book "The Cancer Solution – Taking Charge of Your Life with Cancer" with his wife's 34 year journey of living with cancer.
The book goes on to describe current prevalent cancer treatment in the forms of surgery, radiation, and chemotherapy and their methods and results. Dr. Westman helps readers understand how to take an active part in managing their own health and medical problems.
Dr. Westman's explanation of the multiplication of cancer cells through neoplasia is especially informative. Full chapters are devoted to cancer research, clinical trials and treatments, new approaches, immunotherapy, and nutritional therapy. Chapter eleven deals with complementing cancer treatment and is significant in that it relates to a holistic approach to cancer and personal responsibility.
Dr. Westman's conclusions are logically presented, authoritative, and convincing. His extensive research is well documented and provides the reader with excellent suggestions for further reading.
"The Cancer Solution – Taking Charge of Your Life with Cancer" is a practical guidebook for anyone diagnosed with cancer and their families, as well as for hospice caregivers and professionals in the field of oncology and healthcare.