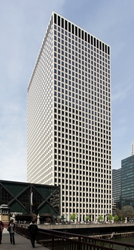 This is truly a thrilling moment for Land of Lincoln Health as we continue to expand our footprint in Illinois, and we thank Savills Studley for facilitating this transition on behalf of our organization
Chicago, IL (PRWEB) July 13, 2015
Savills Studley announces that Land of Lincoln Health has signed a long-term, 35,000-square-foot lease at 222 South Riverside Plaza on the 16th floor. The company, which in 2013 was the first mutual health insurance company to be licensed in the state of Illinois, in more than 25 years, was previously subleasing space at the building.
"The space at 222 South Riverside was an ideal solution for Land of Lincoln Health. As the company experienced quick growth and increased headcount, it was able to take advantage of the fully built-out space in place, as it was previously occupied by an insurance company of similar size," said Lisa Davidson, executive managing director of Savills Studley's Chicago office, who executed the transaction on behalf of Land of Lincoln Health. "The company was even able to utilize the existing furniture, further cutting costs and time restraints."
In only its second year, Land of Lincoln Health, Illinois' first and only nonprofit health insurance consumer operated and oriented plan (CO-OP), captured more than 25 percent of new enrollees on the Illinois Exchange, in total enrolling more than 50,000 members during the 2015 Open Enrollment period Land of Lincoln Health's recent move comes is part of a broader commitment to best serve its members across the state.
"This is truly a thrilling moment for Land of Lincoln Health as we continue to expand our footprint in Illinois, and we thank Savills Studley for facilitating this transition on behalf of our organization," said Jason Montrie, President, Land of Lincoln Health. "Our move is a testament to our growth and unrelenting commitment to our culture and the talented employees that work hard every day to provide our members the high-quality insurance options they deserve."
Alex Greene of Savills Studley's Chicago office assisted Davidson on the transaction and Jarrett Annenberg of CBRE represented National General Insurance, the sub-landlord of the space through its recent acquisition of Tower Group who occupied the space.
About Savills Studley
Savills Studley is the leading commercial real estate services firm specializing in tenant representation. Founded in 1954, the firm pioneered the conflict-free business model of representing only tenants in their commercial real estate transactions. Today, supported by high quality market research and in-depth analysis, Savills Studley provides strategic real estate solutions to organizations across all industries. The firm's comprehensive commercial real estate platform includes brokerage, project management, capital markets, consulting and corporate services. With 27 offices in the U.S. and a heritage of innovation, Savills Studley is well known for tenacious client advocacy and exceptional service.
The firm is part of London-headquartered Savills plc, the premier global real estate service provider with over 27,000 professionals and over 600 locations around the world. Savills plc is listed on the London Stock Exchange (SVS.L).
For more information, please visit http://www.savills-studley.com and follow us on Twitter @SavillsStudley and LinkedIn.