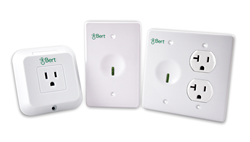 " With BERT, Cisco Energy Manager (CEM) Cloud, can measure and control non IP plug load devices"
King of Prussia, PA (PRWEB) August 04, 2015
Best Energy Reduction Technologies (BERT), LLC, the leading supplier of Wi Fi based plug load management systems, announces the immediate availability of integration for the Cisco Energy Manager (CEM) Cloud Solution. The fully integrated CEM and Bert solution allows customers to easily manage and reduce the energy usage all of their Plug Load, both IT and non-IT, through a single cloud based user interface.
About CEM Bert Integration
The Bert family of products extends the Cisco Energy Manager (CEM) solution to monitor, measure, and control plug loads that are not enabled with Internet Protocol (IP). By using Bert and the existing Wi Fi network, Plug Load devices such as laptop charging carts, smart boards, coffee makers, copiers, water coolers, vending machines, water heaters, exhaust fans and window air conditioners become IP addressable so they can be remotely measured, analyzed and controlled.
"The combination of the Cisco Energy Manager (CEM) and Bert is the first cloud solution to manage both IP and non-IP plug load at both the individual device and circuit level," says Scott Yetter, CEO Best Energy Reduction Technologies, LLC (BERT).
About The Bert® Plug Load Management System
The Bert® Wi Fi Plug Load Management System is a family of products that reduces energy for Plug Load Devices by using the existing Wi Fi network. By simply plugging water coolers, coffee machines, printers, copiers, etc. into the Bert® Smart Plug series or wiring circuits with the Inline Series, commercial buildings can remotely measure, analyze and control lighting and plug loads at both the receptacle and circuit level The Bert® Smart Plug Series manages individual plug loads up to 120V/15A. The Bert® Inline Series extends plug load management to the circuit level to measure and control anything from a few outlets to an entire circuit. The Bert® Inline Series is hard wired into your receptacle circuits and can manage loads ranging from 110 Volts and 15 Amps to 277 Volts and 20 Amps. All BERT products measure energy usage providing real time power readings and historical power usage by hour, day, month, year and any user defined time period.
Learn more about how K-12 schools, colleges, offices, hospitals, state/local governments and retailers are managing plug load and saving energy with the Bert® Plug Load Management System by visiting http://www.bertbrain.com.