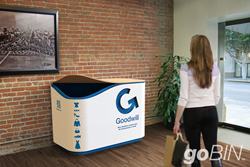 "The Goodwill goBin will be installed in every big office and high rise in SF within 5 years, making the donation of textiles an everyday convenience." Maureen Sedonaen, Goodwill President and CEO.
San Francisco, Ca (PRWEB) July 15, 2015
Goodwill will install the first goBIN®, at Kilroy Realty Corporation's 201 Third Street commercial building on Wednesday, July 15 at 2:30pm. A highly innovative, tech enabled donation collection receptacle that is designed to serve high rise commercial buildings, and multi-unit apartment towers and office buildings. The Goodwill goBIN®, lets tenants and employees conveniently donate – and do good – without leaving their buildings. Clothing, shoes, and accessories can be dropped in anytime, eliminating a weekend or after work trip to Goodwill.
"I'm delighted to recognize Kilroy Realty Corporation's leadership as an early adopter of the goBIN® smart textile solution. The Goodwill goBIN® will be installed in every big office and high rise in the city within 5 years making the donation of textiles an everyday convenience," said Maureen Sedonaen, Goodwill President and CEO. "Every shirt, shoe and purse donated into a goBIN® will help us create local job opportunities for people in need of a dignified path out of poverty."
"We are thrilled to be on the forefront of this exciting collaboration with Goodwill and encourage other commercial property owners and managers to join us in this win-win partnership that serves as a great amenity for building tenants as well as benefit our community at large," said Eileen Kong, Senior Portfolio Manager, Kilroy Realty.
As part of the Zero Textile Waste Awareness Campaign, funded, in part, by a grant from the San Francisco Department of the Environment, the goBIN® will help drive greater public awareness of the environmental degradation caused by textile waste and guide San Franciscans toward a new habit of donating their textiles instead of trashing them.
On average, each American sends an astonishing 70 pounds of textiles to the dump every year. In San Francisco, that translates to 4,500 pounds of textiles entering our landfills every hour, making up 5% of the total volume of waste. The goBIN® will help the city meet its ambitious "Zero Waste by 2020" goals.
Frog Design, the San Francisco-based product strategy and design firm, developed the goBIN® design, collaborating with the SFGoodwill on a pro-bono basis. Said Creative Director Peter Michaelian, "We were inspired by the idea of creating a bin that added to the character of a building while providing great concierge service. The form factor is friendly, while tech features offer additional touch-points to the user experience."
Using a QR code on the goBIN®, donors will access an online donation tax form and learn more about how their donation is helping put local people in need back to work through Goodwill's job training and placement programs. A sensor inside the goBIN® pings Goodwill for pick-up when it reaches two-thirds capacity, ensuring that the bin will never overflow. An internal rolling cart system will enable Goodwill drivers to service the goBIN® in less than five minutes per trip.
"This exciting partnership demonstrates our commitment to making a positive environmental impact," said Steve DiNardo, Entercom San Francisco Market Vice President and General Manager and 201 3rd Street commercial tenant. "Our collective efforts will educate the public on how donated textile can be diverted from landfills and reused for a good cause."
About SFGoodwill
Goodwill Industries of San Francisco, San Mateo and Marin Counties opens doorways to jobs for local people in need. Approaching its centennial in 2016, SFGoodwill continues to innovate through its eCommerce, specialty boutique, family store, and salvage businesses – which fund local job training, job placement, and employment opportunities that give people a second chance at a sustainable livelihood. Using the proven methods of The Goodwill Way, the enterprise focuses on people who are coming out of jail, off the streets, out of addiction and displaced from other countries, and helps them transform their lives through the power of work. In the next 12 months, more than 1,000 local people will get jobs through SFGoodwill and another 5,000 will be readied to rejoin the job market. Learn more at http://sfgoodwill.org.
About Kilroy Realty Corporation
With more than 65 years' experience owning, developing, acquiring and managing real estate assets in West Coast real estate markets, Kilroy Realty Corporation (KRC), a publicly traded real estate investment trust and member of the S&P MidCap 400 Index, is one of the region's premier landlords. The company provides physical work environments that foster creativity and productivity and serves a broad roster of dynamic, innovation-driven tenants, including technology, entertainment, digital media and health care companies. At March 31, 2015, the company's stabilized portfolio totaled 13.0 million square feet of office properties, all located in the coastal regions of greater Seattle, the San Francisco Bay Area, Los Angeles, Orange County and San Diego. The company is recognized by the Global Real Estate Sustainability Benchmark (GRESB) as the North American leader in sustainability and was ranked first among 151 North American participants across all asset types. At the end of the first quarter, the company's properties were 42% LEED certified and 60% of eligible properties were ENERGY STAR certified. In addition, KRC had approximately 1.7 million square feet of new office and mixed-use development under construction with a total estimated investment of approximately $1.1 billion. More information is available at http://www.kilroyrealty.com.