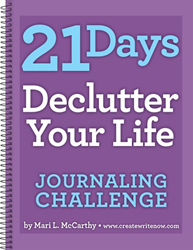 In this program, we help individuals turn to themselves for the answers they need to find a better way – a 'do-able' solution for staying ahead of clutter."
Boston, MA (PRWEB) July 11, 2015
CreateWriteNow has just announced return of it's popular 21 Days Declutter Your Life Journaling Challenge, a 21-day program that uses the power of journaling to address clutter in the home—and the internal issues behind it.
The newest in a series of Journaling Challenges offered by the company, the program is scheduled to begin Saturday, August 1st, 2015.
Created by Mari L. McCarthy, journaling therapy expert and founder of CreateWriteNow, the 21 Days Declutter Your Life Journaling Challenge helps participants rid themselves of clutter by using journaling to explore their current patterns of behavior, create a vision for better organization—and develop new habits to achieve their goals.
The program's related 34-page eBook provides an imaginative framework that supports the unique, personal journey of each participant with creative journaling exercises, helpful suggestions and tips, and designated time for cleanup!
An optional Facebook group delivers a platform for interaction with other participants as well as the opportunity to connect with Mari McCarthy herself, throughout the program.
Said McCarthy, "De-cluttering a messy home may temporarily give some relief, but generally there are patterns of behavior that allow it to become disorganized in the first place. And without addressing the heart of these issues, the home will become cluttered again. In other words, addressing the symptoms doesn't cure the flu!"
She added, "For many, physical clutter creates mental clutter—and it can turn our home environment into an immense source of stress. In this program, we help individuals turn to themselves for the answers they need to find a better way – a 'do-able' solution for staying ahead of clutter."
All that is needed to participate in the upcoming program is the related eWorkbook, 21 Days Declutter Your Life Journaling Challenge—and a pen! The eWorkbook can be purchased in the CreateWriteNow store http://store.createwritenow.com/21-days-declutter-your-life-journaling-challenge/ and is available as an eBook as well as other formats including an audio book and downloadable versions for iPad, Kindle, NOOK and Sony Reader.
About CreateWriteNow
CreateWriteNow teaches individuals how to use the power of daily journaling to achieve self-discovery, personal transformation and perfect health. Founded by Mari McCarthy, who has used the power of daily journaling herself to overcome many of the debilitating effects of Multiple Sclerosis, the company publishes regular articles, journaling prompts, videos and eBooks and holds a number of interactive journaling challenges throughout the year.
Learn more at http://www.createwritenow.com
Learn more about the 21 Days Declutter Your life Journaling Challenge here: http://www.createwritenow.com/declutter-your-life-journaling-challenge
Contact: Mari L. McCarthy
mari(at)createwritenow(dot)com
(781) 635-5175
Twitter: https://twitter.com/CreateWriteNow
Facebook: https://www.facebook.com/CreateWriteNow
LinkedIn: http://www.linkedin.com/company/create-write-now
YouTube: http://www.youtube.com/user/MariLMcCarthy/videos