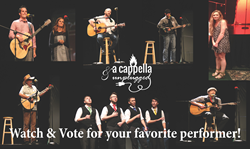 Voting for these finalists will go until July 15, when the top three will be invited to perform before "1864: The Burning" light show celebration on July 18.
Chambersburg, PA (PRWEB) July 10, 2015
After months of auditions, competition and voting, seven finalists are competing for the most votes as the final stretch of A Cappella & Unplugged draws to an end.
Out of the nearly 30 competitors who originally entered the competition, the performers and acts remaining are Andrew "Drew" Drach, Ray Owen, Elise Stendal, Taylor Piper and Kristopher Potter, Austin Poulson, The Songbirds, and John Felter are competing for the top prize.
Drach, of Shippensburg, said he is excited to perform and if he could tour with anyone, it would be Ed Sheeran.
"I like that he sees music as something to be shared and admired, not something that puts him above anyone," he said.
His parents were part of a country music show when he was little, Drach said, so he got accustomed to performing on stage with his twin brother. For one particular show, they were dressed as Santa Claus to sing.
"I was scared out of my mind!" Drach said. "When I was done with the performance I immediately started pacing off stage when the emcee said 'Hey you haven't taken a bow!' So while darting off stage I took my bow.... Facing the wrong direction... Basically mooning the crowd! The theater burst into laughter! I always say, after that...There isn't much to be afraid of!"
Poulson, Fairfield, who plays guitar and likes to sing country, said his top musician to tour with would be Luke Bryan.
Stendal, from Chambersburg, has been playing guitar and singing since she was in 1st grade and said if she gets nervous, she will find support in her "biggest supporters," her mother or father.
"I always try to keep a positive outlook on life," she said. "Sometimes you have to create your own sunshine. I've grown up being taught not to judge and to have an open mind. I love to have fun and enjoy life with my friends. I have a lot of dreams and goals for myself, including becoming a music therapist. Helping people and making them happy is extremely important to me. I'm going to work hard as well as have fun to accomplish these goals."
Felter, a performer from Virginia, focused in auditions on soulful music to try and win over the crowd.
Siblings Piper and Potter from Mercersburg, make up the duet "A World Apart" and have been singing since, well, they were kids. Piper said after singing publicly for just about 12 years, they are confident they can prove themselves.
"We won't be nervous because we are doing what we love to do. We take a few minutes to ourselves. Breathe deeply, close our eyes, say a prayer, and tell ourselves to stay confident in our abilities," she said.
Besides singing, Potter is expecting his first child and Piper is busy at home with a 2-year-old daughter.
The Songbirds, a barbershop quartet from Chambersburg, are among the finalists. The members, all from the Chambersburg area, are Devin Dietrich, who sings tenor lead, Benton Miller, who sings baritone, Quentin Helsel, who sings high tenor and Martin Smith, who sings bass. The performers out of Chambersburg, all met while attended Chambersburg Senior High School together and are lovers of music.
Owen, a singer and performer from Gettysburg, has been performing for years.
"I've been playing as long as I can remember," Owen said, who said he switched to guitar from a ukulele in 5th grade. Owen said despite the years, he still gets nervous on stage.
"I get a little nervous. I think the best thing is to get focused on what you want to accomplish and keep focused on that. I think that music, especially if you are playing and accompanying yourself, takes two different parts of your brain, because you are doing two different things at least and you are adding the counter point and rhythm with your guitar. Music really trains the brain to really focus to really focus on a different level."
Voting for these finalists will go until July 15, when the top three will be invited to perform before "1864: The Burning" light show celebration on July 18. Starting just after 7:00pm, the public will be invited to vote online at Facebook.com/FCVB and in person at designated ballot boxes as the three finalists perform once more for visitors.
The grand prize includes $500 and a solo performance before the crowd.
For more information, please contact Lauren Cappuccio at lcappuccio(at)explorefranklincountypa.com, Janet Pollard at jpollard(at)explorefranklincountypa.com or by calling 717-552-2977.
The Franklin County Visitors Bureau invites all to explore Franklin County PA and enjoy the history, arts, recreation, natural beauty, fresh foods and warm hospitality of communities like Chambersburg, Greencastle, Mercersburg, Shippensburg, and Waynesboro. Franklin County PA is located just north of the Mason Dixon Line and an easy drive to Washington DC, Philadelphia, and Pittsburgh. Discover more….plan your visit at ExploreFranklinCountyPA.com, by contacting 866.646.8060 or 717.552.2977.