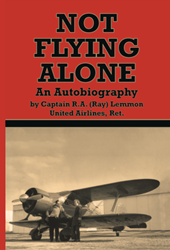 I'm just an ordinary guy that has been extremely lucky
Bethlehem, Pa. (PRWEB) July 13, 2015
Have you ever been so close to a cloud that you thought you could reach out and touch it? Is flying a DC-10 all night, coast to coast, at 37,000 feet a mundane experience? If not, you probably didn't sit in the cockpit of an airliner for 33 years as Ray Lemmon did.
As a former captain for United Airlines, Lemmon's fulfillment came from being up in the sky. As a result of spiritual guidance, Lemmon has chosen to recount his life experience in his new memoir Not Flying Alone.
Growing up in the Great Depression of the 1930s and World War II was a dynamic experience for Lemmon. His dream of becoming a professional pilot was realized as a result of serving two years in the U.S. Army during the Korean conflict.
Throughout his memoir readers will find Lemmon's struggles to gain employment in the airline industry tantalizing. After much persistence, he finally got his break.
"I'm just an ordinary guy that has been extremely lucky," Lemmon said.
In the opening chapter of Not Flying Alone, Lemmon describes the spiritual experience that motivated him to write. After losing his wife, Margaret, in 2011, he immediately became aware of her presence that continues to the present day.
Lemmon shares about receiving the Holy Spirit and how it changed his persona from seeking materialistic fulfillment to spiritual enlightenment.
"We are so caught up in all of the earthly goals, that we tend to forget how life is so temporary," Lemmon said.
Come fly away with Capt. Ray Lemmon on his journey through Not Flying Alone and enjoy reading about the experiences throughout his 85 years of living.
Not Flying Alone
By: Ray Lemmon
ISBN: 978-1-4969-7420-4
Available in softcover, hardcover, e-book
Available on Amazon, Barnes & Noble and AuthorHouse
About the author
As an active licensed pilot for 65 years, Ray Lemmon still finds enjoyment and fulfillment in aviation. As a member of St. Matthews' Lutheran Church in Bethlehem, Pa., Lemmon lives out his life for Christ and shares his personal testimony through his memoir Not Flying Alone. Now retired, Lemmon continues to fly for enjoyment.
# # #
**FOR IMMEDIATE RELEASE**
For review copies or interview requests, contact:
Katie Wenclewicz 317.602.7137 kwenclewicz(at)bohlsengroup(dot)com