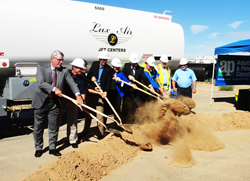 TEMPE, Ariz. (PRWEB) July 10, 2015
Adolfson & Peterson Construction (A&P) joined Lux Air Jet Centers and Larson Associates Architects today in celebrating the ground-breaking of the new fixed base operator facility (FBO) at the Phoenix Goodyear airport. The facility is expected to be a major contributor to the growth of the airport and aviation industry in the Valley.
With airplanes landing and taking off in the background, the ground-breaking ceremony at the Phoenix Goodyear airport kicked-off with Airport Manager Joe Husband detailing the project and the positive impact it will have on the airport and the local aviation industry.
"We're open for business," declared Husband as he detailed how the expansion will serve the airport during major sporting events in the West Valley.
Goodyear Mayor Georgia Lord and City of Phoenix aviation officials joined Washington Federal (financer of the project), Lux Air Managing Partner Tim Berger, and A&P's Regional Vice President Jeff Keck in speaking at the event. The event concluded with a dirt turning ceremony to officially mark the start of construction.
With an expected completion date of April 2016, the $10 million project includes the new FBO, three corporate hangars and additional office space totaling 67,290 square feet.
The general aviation hub for the expanding Phoenix West Valley, Lux Air Goodyear will be located just minutes from the Phoenix International Raceway, several Cactus League Spring Training facilities, and other sports venues in the West Valley.
"It's great to see this project come to fruition and be part of such a contributor to the Valley aviation industry," states Keck. "Lux Air has been a great partner to work with and we are looking forward to seeing the new facilities open next year."
About Adolfson & Peterson Construction
Adolfson & Peterson Construction is a U.S.-based, privately held firm that is consistently ranked among the top 50 construction management companies in the nation. Founded in 1946, the company has built longstanding commitments to the regions in which it operates and is known nationally for its innovative and collaborative approaches within the building industry. A&P serves the education, multifamily, healthcare, energy, commercial, municipal, and senior living market segments from its offices in Phoenix, Charlotte, Dallas, Denver, Los Angeles, Minneapolis, Portland, and Tacoma. For more information, visit http://www.a-p.com and follow us on Facebook, LinkedIn and Twitter.
###