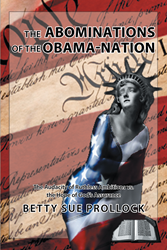 The government is not America. We the people are America.
SAN ANTONIO (PRWEB) July 13, 2015
"The government is not America. We the people are America," author and Tea Party member Betty Sue Prollock proclaims.
In The Abominations of the Obama-Nation, Prollock challenges the current secular federal government and argues that the crusade against Judeo-Christian Americans directly endangers the morals of the Founding Fathers. She outlines how the increase of Islamic, secular and liberal influences aid the Obama-Nation's progressive campaign to separate the United States from its moral ideologies.
"We need to shake off our complacency in order to stop moving America down the path that leads to the end of our liberties," Prollock said. "We need to be bold and stand for what is right by God's natural law."
Prollock bases her book on research, lectures, study courses, life experiences and a renewed focus on God and country. In section two of the book, her chapter-by-chapter review of President Obama's biography "Dreams from My Father," Prollock identifies inaccuracies and blatant messages of racism within President Obama's ideology.
"My book is fairly simple. I am fairly simple. I want American citizens to know God's protection is the only means for America's survival," Prollock said.
For more information, visit http://www.BettySueProject.com.
The Abominations of the Obama-Nation
By Betty Sue Prollock
ISBN: 978-1-49173-391-2
Available in softcover, hardcover, e-book
Available on Amazon, Barnes & Noble and iUniverse
About the author
Betty Sue Prollock is a fulltime personal care provider for her 92-year-old blind mother. She accepted Christ into her life at the age of seven and has a deep love for God and country. Prollock comes from a military family, as her father served in WWII and her son is a US Army and National Guard veteran. She was formerly a member of the Forsyth County Tea Party and has recently joined the Tea Party near her new home in San Antonio.
# # #
For review copies or interview requests, contact:
Jaymie Shook
317.602.7137
jshook(at)bohlsengroup(dot)com