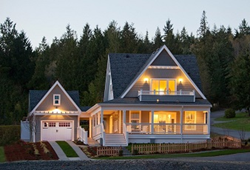 "Westharbor Homes is proud to have been recognized by Professional Builder as one of the top home-building projects for the Townsend model." - Cliff O'Brien, Construction Manager, Westharbor Homes
Port Ludlow, WA (PRWEB) July 12, 2015
Westharbor Homes has been named a winner in the Professional Builder Design Awards contest for the Townsend floor plan, which recognizes the nation's top home-building projects for their design excellence, sales and marketing success, and construction quality.
Sponsored by Professional Builder magazine, the PB Design Awards honors projects across eleven categories: single-family homes, multi-family homes, one-of-a-kind custom homes, "on the boards" projects, communities, systems built/modular, green, best revised plan and urban infill. Westharbor Homes won the Gold Award in the Single-Family Homes category for the Townsend floor plan in their newest development, Ludlow Cove Cottages.
The winners were selected by a panel of esteemed residential design experts that included Larry W. Garnett, FAIBD, principal of Larry Garnett Designs, Glen Rose, Texas; Jacob Goldberg, President of Goldberg General Contracting, Chicago, Ill.; and Todd Hallett, President of TK Design & Associates, South Lyon, Mich.
"Westharbor Homes is proud to have been recognized by Professional Builder as one of the top home-building projects for the Townsend model. We thank our partners Union Studio, 2+ Design, GHC Planning and Landscape Architecture, and our local trade partners." – Cliff O'Brien, Construction Manager, Westharbor Homes.
The PB Design Award winners will be featured in the September 2015 issue of Professional Builder, as well as online at http://www.probuilder.com.
Since 1936, Professional Builder has remained dedicated to serving the needs of the nation's home-building community — builders, architects, designers, trade partners, and suppliers — with award-winning content and proven, practical solutions. The magazine is published by SGC Horizon, a division of Scranton Gillette Communications, and serves an audience of more than 112,000 leading decision makers in the home-building market. For more, visit probuilder.com.
The Townsend model is one of the five floor plans offered in Ludlow Cove Cottages. Ludlow Cove Cottages is a new neighborhood of 42 single-family cottage style homes, designed to suit both full-time and vacation lifestyles. The neighborhood is located on a historic logging site in the Master Planned Resort Community of Port Ludlow, WA. Ludlow Cove Cottages offers waterfront, woodland, and park-front home sites.
Westharbor Homes has been building homes for over 20 years on the Olympic and Kitsap Peninsulas and specializes in new neighborhood construction and custom homes.
Westharbor Homes is proud to have a partner in Union Studio Architecture & Community Design for Ludlow Cove Cottages. Union Studio is a nationally practicing, award-winning architecture and design firm located in Providence, R.I. The firm takes a comprehensive approach to the design of neighborhoods – infusing traditional neighborhood planning with beautiful architecture that is both memorable and firmly grounded in the realities of market-driven needs.