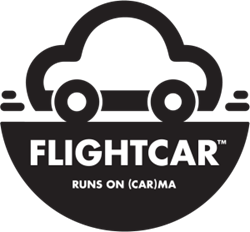 Today we're launching our mobile app to dramatically improve our pickup experience and provide a level of transparency that doesn't exist in the airport car rental space today...
San Francisco, CA (PRWEB) July 15, 2015
FlightCar, the world's leading peer-to-peer car sharing company operating at airports, is modernizing the airport parking experience with the launch of its new mobile app. Now, for the first time, customers can access all features of the innovative car sharing service right from their iPhone, making rentals and free airport parking more convenient than ever. Plus, FlightCar's app goes a step further by providing a seamless and swift pickup - coordinated effortlessly with a few mobile clicks.
Forget finding a shuttle depot and waiting endlessly for a pick-up, the FlightCar app tracks and pinpoints the user's location for easy and fast airport pickup. It also allows travelers to list or rent cars, view scheduled trips, and more - right from their fingertips.
Streamlining the airport pick up process, the FlightCar app connects with users immediately upon arrival - coordinating details on party size, luggage needs, specific terminal location, airline, and more. Once the traveler is ready, he/she can request a pickup right through the app and track the location of the driver live, like with Uber. Travelers can even provide the driver with their general physical description (such as color of jacket) via the app, so it's easier to find them quickly.
The FlightCar app also has a new "Car Status" feature. Vehicle owners, while away, can track the live status of their vehicles. Is the vehicle parked at FlightCar? Is it on rental? The app will share the most recent recorded mileage and current status, and it'll even confirm that the vehicle is washed, vacuumed, and ready to go, when the owner is heading back home.
"Today we're launching our mobile app to dramatically improve our pickup experience and provide a level of transparency that doesn't exist in the airport car rental space today," said FlightCar Co-Founder & CEO, Rujul Zaparde. "We're improving the overall experience of getting to and from the airport, on top of giving our members more control over and insight into their listings and rentals."
FlightCar, which operates in fourteen major U.S. cities: Austin, Baltimore, Boston, Dallas, Denver, Los Angeles, Oakland, Philadelphia, Portland, San Diego, San Francisco, San Jose, Seattle, and Washington D.C., enables its app users the ability to view the status of their vehicle in real time- whether it is parked at the facility or out on rental- and they can also now view the renter's first name and profile.
FlightCar customers get the benefit of free airport parking and a complete car cleaning (even if the company does not rent out their vehicle). FlightCar pays car owners when their cars are rented, based on the mileage driven. Rates vary depending on the year, make, and model, but for renters, the fees are consistently 40-50% lower than those of typical rental car companies. Additionally, FlightCar insures each vehicle for up to $1M on property and liability, offering protection for owners and renters alike.
About FlightCar
FlightCar is the world's first peer-to-peer car sharing company to operate at airports. FlightCar's service helps people rent their car to other travelers and make extra cash instead of leaving their car unused at the airport. Backed by influential investors such as Ashton Kutcher, Alexis Ohanian, and Seacrest Global Group, the company is headstrong on pioneering the sharing economy. So far FlightCar has expanded to DEN, SFO, SJC, BOS, LAX, SEA, PHL, DAL, IAD, AUS, OAK, SAN, BWI, and PDX with plenty of other airports in its sights. FlightCar's graduated from two accelerators: Y Combinator and The Brandery. Vine Street Ventures and Great Oaks Venture Capital are also investors in the company. Follow FlightCar on Twitter or connect on Facebook.