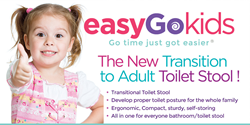 Our stool is perfect for the whole family but adding fun colors seemed the natural way to attract Moms, Dad's and kids alike while remaining affordable."
El Segundo, CA (PRWEB) July 15, 2015
Any parent who has a child that suffers from constipation, or discomfort while on the toilet, knows easyGoKids is a much needed and welcome solution for the adolescent. In fact, the highest rate of constipation is in boys age 10 years and only gets worse with girls ages 12-18.
Constipation in children has reported prevalence rates between 1% and 30%. It is the principal complaint in 3-5% of all visits to pediatric outpatient clinics and as many as 35% of all visits to pediatric gastroenterologists.
Treatments for constipation in children have remained the same for decades. Of course one must improve a child's eating, diet, and nutrition; implement better behavior, whatever that may mean; and when that doesn't work parents often turn to painful enemas and laxatives. So, while adults are adapting a new toilet posture, why not encourage our children to develop better toilet posture at the same time?
Functional constipation has a natural tendency to turn into a chronic, life-long affliction, and it may significantly impact on the self-esteem, development, growth potential, health, and quality of the life during formative years and into adulthood.
The recent trend in adult toilet stools, such as easyGopro and Squatty Potty, focuses on adults changing life-long toilet habits by elevating their feet while on the toilet. But until now, no one was addressing the needs of children between the ages of 3 and 10 when developing proper toilet habits shapes the rest of their life's ability to be regular, comfortable, and healthy. The leading discomfort in adolescents is dangling feet. Dangling feet causes discomfort and doesn't allow for proper pressure associated with a bowel movement. easyGoKids solves this problem.
In July of 2013 EGPro, LLC set out to design a toilet stool that would help reduce ailments associated with incorrect toilet posture for adults, while offering an alternative solution to Squatty Potty. Giving attention to the transition years of 3-10, the most critical in the development of life long toilet habits, became a mission in developing the perfect stool. In the end, easyGopro and easyGoKids is the same stool that solves different problems starting at potty training. "Our stool is perfect for the whole family and by adding fun colors it seemed the natural way to attract Moms, Dad's and kids alike." says Wendi Cooper, CEO of EGPRO, LLC.
Older siblings and parents elevate their feet for a more natural 35 degree angle and easier elimination, while younger siblings have a resting platform.
Teaching by example has always been the way of the potty world, now with easyGoKids go time truly just got easier for everyone. The new colors are currently available on Amazon.com.
EGPRO, LLC
A woman owned and operated business based in Los Angeles, CA whose mission is to create affordable, innovative health and wellness products. Wendi Cooper is CEO and Owner and CEO, is an inspired Ovarian Cancer Survivor, Woman's Health Advocate.