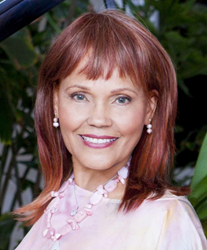 Luz Delia Gerber is a Shining Light Star! Her message is to be heeded for YOUR Personal Healing and Transformation! - Brian Clement, HHI Director
Dallas, TX (PRWEB) July 12, 2015
Alongside renowned fashion designer Abi Ferrin and Mary Kay, Luz Delia will discuss how women can improve their Well-Being and that of their family. Gerber believes that Well-Being begins with understanding how your body actually works and building a new relationship of mindfulness with yourself. By becoming mindful of your body and being present, you will be set free to discover and enjoy the breath of God.
Abi Ferrin has a passion for empowering women and has been doing so through her eponymous clothing line for 14 years. As a fashion designer, she has the perfect platform to inspire women, and as a philanthropist, she created her company to support women while dressing them. Abi was invited in to speak to approximately 50,000 women at the Mary Kay Annual Seminar in Dallas Texas on July 16, 20, 23, 27, & 30 at the Kay Bailey Hutchison Convention Center.
Empowering women involves teaching how to respect, listen to, and nourish your body. Abi says: ""Luz Delia Gerber's knowledge of the workings of the human body is masterful. She breaks down this complex subject in a way that connects to every reader and allows understanding of how all our systems work together and how to live a life in full freedom and optimal health. I have been following her "Baby Steps" to health guidelines for several years and have had beautiful results in my overall clarity, health and overall energy."
After the conference, Luz Delia and Abi Ferrin will host a special reception where women will be treated to nutritious, delicious, and easy-to-prepare gourmet recipes while enjoying a private shopping experience at Abi's boutique.
Luz Delia has a vision: "Transformare el Status de Existensia!"—to "Intentionally Invent and Transform our Environment so Our Children's Children are Born into Perfection." Her book is the catalyst for that vision. Ten percent from the gross proceeds from every dollar from the sale of every book sold at this conference will be donated to Abi's Ferrin's Foundation to help empower underprivileged and abused women worldwide.
For additional information please contact:
Tammy Markee-Mayas
(760) 715-8447, Tammy(at)LuzDeliaGerber(dot)com
luzdeliagerber.com
As author of Oh, My Body! The Undiscovered Miracle of Our Lives, Luz Delia continues to demonstrate her selfless commitment to others and their Well-Being. Her accessibility and presence through educational events, speaking, and her writings reinforce her position that true Well-Being brings boundless joy and meaning to life. To learn more about Luz Delia and her new book, go to http://www.LuzDeliaGerber.com/OhMyBody