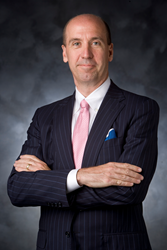 When it comes to future proofing, the energy industry leaders need to place greater emphasis on asking better questions
Pittsburgh, PA (PRWEB) July 21, 2015
Futurist Jack Uldrich is set to deliver his keynote "The Big AHA: How to Future-Proof Your Business Against Tomorrow's Transformational Trends, Today" to Emerson Process Management in Pittsburgh, PA on July 27th.
A highly acclaimed author and public speaker, Uldrich focuses on helping his clients in the energy industry thrive in increasingly competitive energy markets. "Today, " says Uldrich, "when it comes to technology, society is in a state of constant transition and the greatest change we experience is the rate of change itself. The net effect is that 'answers' about the future are decreasing in value. When it comes to future proofing, the energy industry leaders need to place greater emphasis on asking better questions."
Over the years, Uldrich, a former naval intelligence officer and director of strategy for the State of Minnesota, has worked with a number of companies and dozens of trade associations in the energy and utilities industry. Uldrich has delivered keynotes for the North Carolina Electric Coops, the National Fluid Power Association's Annual Conference, ABB's product launch tour on sensors, the CleaResults Energy Summit, Western Energy Institute, Southern Company, SDG&E, SMUD, Eaton, BP, the National Rural Electric Cooperative Association, Missouri River Energy, Northwest Energy, Idaho Power and the Northeast and Northwest Public Power Associations.
In his talk The Seven Trends Shaping the Future of Energy Efficiency delivered at the CLEAResult Energy Efficiency Roundup, Uldrich touches on wearable technologies, 3-D Manufacturing, mobile computing, nanotechnology, robotics, sensors and supercomputers like Watson.
The future of the energy industry is precarious, and Uldrich says "embracing ambiguity and taking time out of the daily grind to reflect and ask not just the difficult questions, but the unexpected questions, may just hold the key to future proofing the entire industry."
Parties interested in learning more about him, his books, his daily blog or his speaking availability are encouraged to visit his website.