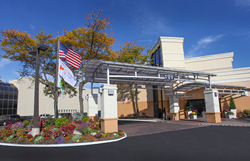 Whenever we can add to the convenience and comfort to our guests, it becomes a win/win situation.
Long Island, New York (PRWEB) July 13, 2015
The Holiday Inn Westbury will be adding a Market off of their lobby to add to the services and amenities provided to their guests. The new Market will be open 24 hours, seven days a week, and will provide guests with an opportunity to purchase a variety of items. Guests will be able to conveniently purchase many snacks, light fare, soft drinks and alcoholic beverages, which will include beer, wine and small bottles of liquor. In addition, the Market will have personal convenience items, so if one forgets to pack something for their trip, the new Market may have just what they're seeking.
The Holiday Inn Westbury's owners along with their management team have done a lot of research in regards to what travelers and guests are seeking during their travels, and they have also worked closely with IHG to ensure they are meeting and exceeding the required specifications. In this particular case, the Hotel will be converting what is now office space that is located just off the lobby. At one time that space was a gift shop run by an outside vendor, so the space really lends itself to a Market in regards to overall space and convenience. With that said, additional space will not be utilized in the lobby itself, which will maintain the lobby's overall look and feel, which is one of welcoming comfort.
The Holiday Inn Westbury Hotel's General Manager, Franklin Manchester believes the Market will be another great addition to the Hotel's offerings. He stated, "Whenever we can add to the convenience and comfort to our guests, it becomes a win/win situation. I believe many guests will view it as an added value, and the hotel will have it as another service that generates a revenue stream. Instead of guests having to go outside the Hotel to find convenience items, we'll have them right here, and they'll be available 24/7, 365 days a year. This is something many of our guests indicated they would like to see, so we went for it, and got it."
The Hotel has added a variety of amenities over the last year to serve their guests' needs better. Just months ago they purchased a brand new 14 passenger courtesy shuttle van. Late last year they added ergonomic multiple outlet lamps for all their guest rooms, and additional desktop outlets and chargers, which can also be found in every room. All of the items purchased and added are intended to provide guests with added convenience during their stay at the the Hotel. So far, according to Manchester, the guests seem to be enjoying the additions, and he added that the Hotel will continue to invest various resources back into the property, and continue to listen to their guests requests, which he stated that is where they draw much of their inspiration from.