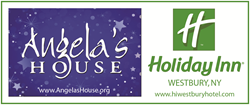 Once people really see and learn what Angela's House is all about I am confident people will rally to support us
Long Island, New York (PRWEB) July 13, 2015
On September 16, 2015 the Holiday Inn Westbury will be hosting a very special fundraising event to benefit the children and families of Long Island based Angela's House. The event will have an authentic Hawaiian Luau theme for all attendees to enjoy. The Holiday Inn Westbury is donating many resources to ensure their event is a successful one, because this particular event is being held to help medically fragile children that live on Long Island, which includes children that live in the three homes that Angel'a House has developed since the organization was founded in 1992 by Bob Policastro and his family.
The Holiday Inn Westbury is now seeking attendees and various sponsors to assist hem in meeting and exceeding their goal, which is to raise over $10,000.00. Most recently they received commitments from the Long Island Business News and Anton Community Newspapers, which are Long Island based publications. The Long Island publications will surely assist in raising awareness of the event; however, it's going to be the financial commitment from many that really makes the difference.
The Hotel's management team will be reaching out to many local businesses, hoping that they will receive their support. The team will be utilizing various methods, which will include post card mailings, e-mail blasts, social media outlets, but perhaps the most important and effective method will be their personalized meetings with those throughout the Long Island community.
Franklin Manchester, the Holiday Inn Westbury's General Manager is confident that many people and companies will support their endeavor. He commented, "Once people really see and learn what Angela's House is all about, I am confident people will rally to support us. Over the last several weeks I have had the honor and privilege of getting to know some of the key people behind Angela's House, and I was also able to meet the children, and some of the families that benefit from their services. It's just an amazing organization, and it's one that is unfortunately a little under the radar, but that is something we are trying to change, and I know we'll do it, but we need the help of others to really make an impact and a big difference."
Manchester continued, adding that there is no donation too large or too small. The Hotel is requesting a $50.00 donation for guests to attend; however, there are also different level sponsorship opportunities, and people can also donate goods and services to be utilized as raffle prizes. Of course people may also just make monetary donations whether they plan on attending the event or not. People may find out more about the event by visiting the Hotel's website, where they have now listed all of the necessary information one may need.
For additional information, the Hotel advises to contact them at info(at)hiwestbury(dot)com, and of course visit their website at http://www.hiwestburyhotel.com.