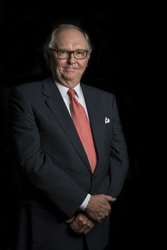 How could we possibly agree to let them develop ICBMs
DALLAS, TEXAS (PRWEB) July 13, 2015
Robert Jordan, former U.S. Ambassador to Saudi Arabia, weighs in on Iran nuclear talks, ISIS, and Saudi intervention in Yemen.
As seen on Fox News on July 11th, Jordan, a seasoned diplomat on the complexities in the Middle East, said, "As negotiations continue with the Iran nuclear talks, the fact sheet for the interim agreement makes it clear that the UN resolution would limit ballistic missile technology. Even Secretary of Defense Ashton Carter said last week that ICBM means intercontinental missiles that could carry chemical or nuclear warheads and directly threaten the U.S. How could we possibly agree to let them develop ICBMs?"
Jordan further added, "The U.S. has not changed its negotiating stance unless the fact sheet is false. There are enough problems with this deal already that Congress is unlikely to permit Iran to keep its centrifuges, refuse inspections at military sites and, as icing on the cake, develop intercontinental missile technology."
He believes the Obama administration has looked too anxious in trying to strike a deal with Iran over their nuclear capabilities with a weak framework that does not have robust inspections and sanctions to keep Iran from seeking nukes. When asked if there will be a deal struck with Iran, Jordan said, "I'm skeptical" and believes Secretary of State John Kerry is trying to lower expectations to condition the public that we may walk away from a bad deal.
As heard on Fox News Radio with Brian Kilmeade (July 10th), Jordan reflected on President Obama, noting"ISIS will not be defeated by guns but through ideas. Obama is putting too much emphasis on the ideological aspect; ISIS are comprised of psychopaths and attracting other sick psychopaths from around the world to join them. As such, they should be treated like an enemy state.
"The United States needs to start treating the Islamic State (ISIS) like an actual state. We see now huge portions not just of Iraq but also of Syria being actually governed by ISIS. They're collecting taxes, they're taking money out of banks, they're selling oil, acting very much like a state, and they have to be treated like a state in terms of military conflict as well."
With regards to the Saudi-coalition strikes in Yemen, Jordan told VICE News, "They have further disaffected Yemenis already weary years of American drone strikes on alleged al Qaeda sites in the country. There was so much resentment of the US drone strikes that a lot of the tribes and the populations started turning against the US and Saudi Arabia, referring to Sunni tribes that have in the past been supported by Saudi Arabia, and some of whom have taken up arms against the Houthis."
"Now we also have the catastrophe of so much civilian damage that the tribes may be more alienated that they were in the past — some may even see a path to lining up with the Houthis or al Qaeda," he explained. Jordan further noted, "In lieu of a political resolution, the Saudis may be bunkering down for a 'war of attrition'— waiting until the Houthis run out of rockets and other weapons.
"As the Iran nuclear talks near another deadline, growing concern and anticipation continues to mount. We must trust the outcome will be made in the best interest of our country."
To learn more, visit: http://www.ambassadorjordan.com
For interviews, please contact: Cindy Birne, cindy.birne(at)cindybirnepr(dot)com, or call: 214-405-8047
About the Author
Robert Jordan is Diplomat in Residence and adjunct professor of political science in the John G. Tower Center for Political Studies at Southern Methodist University. He served as U.S. Ambassador to Saudi Arabia from 2001-2003 and as a partner in the international law firm Baker Botts LLP for many years where he headed Middle East practice in Dubai.
Jordan is Vice Chair of the Tower Center Board of Directors and of the Board of Governors of the Middle East Institute. He is a member of the Council on Foreign Relations and a past president of the Dallas Bar Association and the Dallas Committee on Foreign Relations. In addition, he is a member of the American Arbitration Association Commercial Panel of Arbitrators, the Panel of Distinguished Neutrals of the CPR International Institute for Conflict Prevention and Resolution, and the London Court of Arbitration.
He serves on the Advisory Board of the Bilateral U.S.-Arab Chamber of Commerce and is a frequent commentator with international media including CNN, Fox News, MSNBC, CNBC, Al Jazeera America, Bloomberg News and the New York Times.
His new memoir "Desert Diplomat: Inside Saudi Arabia Following 9/11" (Potomac Books) was officially released on July 1, 2015.
# # #