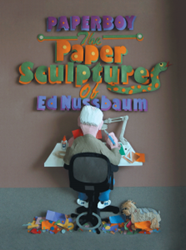 Nothing is safe from his creative eye, which turns to politics, sports, movies, television, art, music and caricatures.
NORTHPORT, N.Y. –
(PRWEB) July 17, 2015 -- Simple pieces of paper transform into colorful statements thanks to the skillful hands of an award-winning artist. He shares examples of his intriguing work in a new book released by Dog Ear Publishing. Nothing is safe from his creative eye, which turns to politics, sports, movies, television, art, music and caricatures.
"Paperboy: The Paper Sculptures of Ed Nussbaum" features tools used by paper sculptors, a brief description of how he creates his masterpieces and examples of his work, grouped by subject. Between the pages of the book, readers will see a sculpture of to one of athlete Michael Phelps, who won eight gold medals at the 2008 Beijing Olympics, swimming in his bathtub. In that same section, they'll encounter Lance Armstrong, seven-time medalist at the Tour de France (later stripped of them for doping), shown riding a tricycle.
Nussbaum's tongue-in-cheek humor also is seen in his piece showing New York Mayor Mike Blomberg as the Monopoly man, running through the city, and the sculpture of former President Jimmy Carter, depicted in overalls standing on a mound of peanuts. He celebrates fellow artists, rendering them with their most famous works, and creates unforgettable portraits of celebrities such as Whoopi Goldberg, Marilyn Monroe and the cast of "The Sopranos."
Author Ed Nussbaum established Big League Graphics, an art and design studio, after retiring, and he produces paper sculptures and drawings for clients. His work has been displayed at galleries in New York State and the Gallery at Lincoln Center. He sent a print of the U.S. presidents to President Obama. His paper sculptures have been used for magazines and ads, and he produced three children's book and a pop-up book, "The Horror Hall of Fame."
He was studying at Washington University St. Louis School of Fine Arts when he joined the Air Force during the Korean War. Nussbaum earned an award for his sketching in Okinawa and majored in graphic design and advertising at the Parsons School of Design in New York. He was an art director for ABC Television and worked for some of the country's biggest advertising agencies as well as owning a successful agency specializing in television-related companies.
Nussbaum's work led to awards from the Type Directors' Club, Advertising Club, ANDY Awards, Art Directors' Club, the TV Clio Festival and the One Show. He lives in Northport, N.Y., with his faithful dog Diva, and has two granddaughters.
----------
For additional information, please visit http://www.ednussbaumpaperboy.com
Paperboy: The Paper Sculptures of Ed Nussbaum
Ed Nussbaum
Dog Ear Publishing
ISBN: 978-1-4575-3653-3 128 pages $30 US
Available at Ingram, Amazon.com, Barnes & Noble and fine bookstores everywhere.
About Dog Ear Publishing, LLC
Dog Ear Publishing offers completely customized self-publishing services for independent authors. We provide cost-effective, fast, and highly profitable services to publish and distribute independently published books. Our book publishing and distribution services reach worldwide. Dog Ear authors retain all rights and complete creative control throughout the entire self-publishing process. Dog Ear Publishing reviews services and other book marketing services are available to connect great content with interested readers. Self-publishing services are available globally at http://www.dogearpublishing.net and from our offices in Indianapolis.
Dog Ear Publishing – self-publishing that actually makes sense.