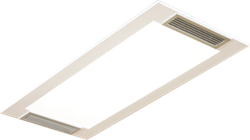 "The HRMS is proven to eliminate HAI-causing pathogens like MRSA."
South Bend, Indiana (PRWEB) July 14, 2015
American Green Technology® (AGT) is expanding U.S. distribution and has signed an exclusive agreement with Pathogen Solution, LLC to market the Health Risk Management System (HRMS) throughout Colorado. With over 25 years of experience in energy efficient lighting, healthcare including the medical and dental market, as well as the commercial building industry, the team at Pathogen Solution, LLC, led by President Richard Coons, is uniquely qualified to cover numerous verticals where the HRMS fits.
"The HRMS is a unique and innovative technology that provides impactful air quality improvements that decreases the amount of surface contamination simultaneously," said Richard Coons, President of Pathogen Solution. "The HRMS performs at a level that makes it an excellent option for the healthcare industry, and it's functional design makes it a wonderful retrofit or new construction solution for commercial buildings, schools, dental and physician offices."
"The Colorado area is thriving and we are excited to have Pathogen Solution to help bring the HRMS to that market," said Danny Bogar, CEO for AGT. "Reducing healthcare-associated infections (HAIs) and improving air quality are important to keeping people healthy and the HRMS can be a valuable tool in that fight."
The HRMS uses UVC technology and is proven to eliminate HAI-causing pathogens like methicillin-resistant Staphylococcus aureus or MRSA which causes approximately 20,000 deaths annually, most of which are children. Every year, 90,000 Americans suffer from invasive MRSA infections.
For more information on the HRMS, log onto http://www.pathogensolution.com.
About American Green Technology:
American Green Technology® (AGT) is a company dedicated to developing innovative, sustainable products to positively impact the health, economy and environment of global communities. AGT's Health Risk Management System (HRMS) is a patented UVC lighting product clinically proven to eliminate 99.7% of airborne pathogens that cause Healthcare-associated Infections (HAIs) in hospitals or wherever it is installed. http://www.agthrms.com