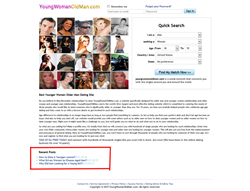 Los Angeles,California (PRWEB) July 14, 2015
For younger women seeking older men and older men looking for younger women, there is a longstanding social network that helps easily check pertinent criteria from the list. The website has launched a new "Recent Posts" feature that will further enhance the experiences of the website's users.
YoungWomanOldMan.com helps blended couples meet by connecting younger women and older men and vice versa. This site has been in the online dating business for over 14 years, and it is the largest and most effective website that matches people who are interested in having a significantly older or younger partner. This trend is on the rise, and YoungWomanOldMan.com is the Internet's trusted place to cultivate such relationships.
This trusted website agrees that the age difference should not matter as much as finding something in common with a likeminded mate. When people use the platform, they already know that they will be connected with someone who is interested in what they are interested, and the basis of an agreed-upon age gap is already accepted from the very beginning, offering a comfortable, relaxed, fun atmosphere. Each person who registers for free at the site answers a series of questions regarding their interests and hobbies. Then the information is put into a database, giving the user several potential dates to choose from.
This dating site is unique because it offers more to a user than simply matching them with another user. YoungWomanOldMan.com's newly launched "Recent Posts" section offers wisdom, information, and education about dating with an age gap. Featured are past posts, including topics such as, "How to Date a Younger Woman," "What Drives Women to Choose Aged Men?", and "Why Old Man Looking for Younger Girl?". The all-new section is now conveniently located on the home page under recent posts, and users can easily click on the title and read the complete article. More information can be found at http://www.YoungWomanOldMan.com.
About YoungWomanOldMan.com
YoungWomanOldMan.com is a leading niche dating site and has offered dating services for those seeking younger or older mates for 14+ years.