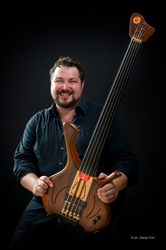 "Not only is he incredibly talented and knowledgeable, his popularity even beyond jazz enthusiasts is almost unmatched. He brings so much the table, it's really a clear sign how our competition is always looking to improve what we are offering the jazz wo
New York, NY (PRWEB) July 13, 2015
The jazz world broadly agrees, The Made in New York Jazz Competition is something special. An online challenge where international jazz players submit short videos of themselves performing in a number of categories, with winners coming to New York to perform at a Gala alongside jazz greats, the team behind the organization recently announced good news. Much talked about Italian jazz fusions bass superstar, Federico Malaman has been added as a committee member, bringing even more world class knowledge and experience to Made in New York Jazz.
"We couldn't be more excited to have Federico join as a committee member," commented Misha Brovkin the Founder of Made in New York Jazz Competition. "Not only is he incredibly talented and knowledgeable, his popularity even beyond jazz enthusiasts is almost unmatched. He brings so much the table, it's really a clear sign how our competition is always looking to improve what we are offering the jazz world."
According to Made in New York Jazz, an Internet sensation Federico Malaman is one of the most watched jazz fusion innovators on YouTube and social media. Some of his videos performing have well over a million views, displaying great musicianship and a technical ability that is jaw dropping.
Malaman has a very impressive resume graduating in classical double bass at conservatorio of Verona "E. Dall' Abaco". He is featured on a number of CDs and DVDs, including his own CD ""Enjoy with Me", "Zoog a Jazz 3", "Royal Big Band Vol 2", "So cool" and "Preface to a Dream" by Elisabeth Geel and many more.
Find more information about Federico Malaman:
https://www.facebook.com/federico.malaman
The artist is expected to have a big influence on the 2016 Made in New York Jazz Competition, which is likely to be the largest and most successful of events yet.
About the Made in New York Jazz Competition
The Made in New York Jazz Competition is the world's first and fastest growing online jazz competition. Competition entrants upload video performances in as many of the six jazz-genre categories as they wish. Registrants vote for their favorite performances. Finalists are selected through a combination of online votes and the Competition's Board of Members and Judges, which is comprised of highly regarded jazz musicians.