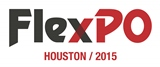 Chemical industry game-changers: What's Next?
(PRWEB) July 14, 2015
Registrations are now open for FlexPO 2015.
The annual FlexPO Conference is in its 24th year and will be held for the first time in Houston, Texas, USA, from October 19-22, 2015.
Chemical Market Resources (CMR) is anticipating a large attendance in conjunction with the move to Houston and the exploration of the timely theme 'Chemical Industry Game-Changers: What's Next?'
FlexPO 2015 will be held at The Woodlands Waterway Marriott Hotel & Convention Center, just 30 minutes north of downtown Houston and 25 minutes from George Bush Intercontinental Airport. The Woodlands Waterway Marriott is located on The Waterway, adjacent to retail shops, restaurants, and entertainment venues. The Convention Center is an exceptional meeting space with state of the art conference facilities.
Delegates have the opportunity to attend more than 30 expert presentations covering the latest industry news on the oil price reset and its impact on north American competitiveness; new technologies; catalyst innovations; product development trends; the latest market dynamics and more while also experiencing an industry-wide networking opportunity like no other.
Distinctive speakers already confirmed include Bob Kenworthy, Chemical Heritage Foundation; Martha Moore, American Chemistry Council; Robert Bauman, Polymer Consulting International; Paul Bjacek, Accenture; Ed Dineen, Siluria Technologies; Prem Cholia, Jacobs; Dr. Shimizu, Mitsubishi Corporation; Fernando Cevallos-Candau, Albemarle; Mike Musgrave, Total Petrochemicals USA, Inc.; Barbara Cohen, CBI Lummus Novolen; C.P Cheng & Yvonne Denkwitz, Clariant; Rick King, BASF Corporation; Dr. Rudy Sugimoto, PTT MCC BioChem Ltd; Karl Ebner, Borealis and Taylor Robinson, PLG Logistics with more still to be announced.
With the shale gas based revival in North America giving petrochemical producers here renewed weight in global petrochemicals, the market for NGL's, intermediate and downstream products is poised for marked growth over the next seven years.
Whether that sentiment holds true, or if other raw material, demand or geo-political factors impact the market dynamics, attendance at FlexPO 2015 will provide critical insights over a range of contemporary topics that will help shape your future business decisions.
Discounted early bird registration is available until August 20th, 2015, and a discounted room rate at The Woodlands Marriott has been negotiated for delegates attending FlexPO 2015.
For more information or to register please contact flexpo(at)cmrhoutex(dot)com or call 281-956-2501
About CMR
Chemical Market Resources, Inc. (CMR) was established in 1990 to undertake business research and strategic planning for a global clientele base concentrated in the chemical, petrochemical, plastics, and allied industries.
CMR Inc. provides clients with thoroughly researched market studies emphasizing emerging trends in the industry, changes in technology supporting these trends and strategic direction assessment so that our clients can optimize opportunities in specific markets.
FURTHER INFORMATION
John Westmoreland - Director of Sales
Chemical Market Resources
E: jwestmoreland(at)cmrhoutex(dot)com
P: +1 713-829-2015