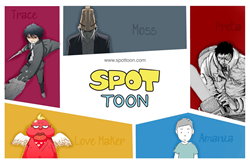 Seoul, South Korea (PRWEB) August 19, 2015
Webtoon provider RollingStory is proud to announce the episodes of their webtoons finally debut on the Huffington Post this month, offering fresh content to readers. By publishing to the Huffington Post, Spottoon is preparing to change the online comics industry with new, unique experiences for the readers, providing refreshing alternatives to the same stale superheroes of big comics companies that have dominated the industry for years.
Webtoons have become successful and widely popular in their home country of South Korea, offering readers highly acclaimed stories and characters from some of the most captivatingly talented artists and writers working in the industry today. These stories offer lively graphics and inventive plots that have captivated audiences throughout the country.
Before Spottoon's grand opening, webtoon, manga, manhwa and online comics readers will be able to enjoy two episodes of each of the five series on the Huffington Post and total of 10 exciting episodes are coming to the readers per week.
The five webtoons premiering initially on the service are: "Moss," "Trace," "Love Maker," "Amanza", and "Preta". Any readers who would like to read the webtoons earlier than its opening, can check them out with the Huffington Post publication. All the webtoons will be available for free. (http://www.huffingtonpost.com/SPOTTOON/)
Spottoon offers a number of genres for the reader's enjoyment in the Huffington Post.
Here's a sneak peek at the new releases on the Huffington Post:
*Moss: A man searching for the truth behind his estranged father's death encounters a suspicious group of locals in the suburbs where his father once lived. Will he be able to uncover the brutal secrets behind the series of bizarre events?
*Trace: Mysterious and deadly, the "Trouble" appear without warning, slaughtering humans and causing chaos in their wake. The only people who can fight back are the Trace, humans born with supernatural abilities. A blockbuster masterpiece with endless conflict, hostility and peace.
*Love Maker: Eunkyung, a 29 year old woman who never had a single relationship in her life, meets Cupid, the greatest player on Olympus who ends up being exiled from the world of gods. Eunkyung has a heart of gold but is very lonely, cupid has no heart. They both help each other to find the true meaning of love.
*Amanza: Mental, physical, and spiritual journey of a young man who finds out that he has terminal cancer. A thought-provoking tale about overcoming adversity and the prevailing humanity.
*Preta: A man lost his pregnant wife to a monstrous predator that emerges from manholes and preys on human flesh. He goes on a hunt to bring his family back, no matter the cost. He has to save his family before it is too late. The clock is ticking.
Features:

Collection of high quality webtoons from some of the best Korean artists
Webtoons from all categories, including: action, fantasy, thriller, drama, etc.
View webtoons conveniently via a computer, tablet or phone
Swipe-and-read format allows easy reading of comics on smaller devices
Reading comics on Spottoon is a social activity. Spottoon includes the ability to share comics with friends and family via social networks such as Facebook and Twitter, or via email or SMS messages.
Pricing and Availability:
Spottoon is free and available worldwide. Complete information about the Spottoon platform and mobile app can be found on the Spottoon website.
EXTRA LINKS (please no duplicates or redirects):
Huffington Post
http://www.huffingtonpost.com/SPOTTOON/
RollingStory
http://www.rollingstory.com
SPOTTOON
http://www.spottoon.com
CORP IDENTITY: RollingStory is a webtoon (online comics) servicing company established by the Hankyoreh media group and an artist collective, providing digitally optimized vertical-scroll view comics, dedicated to moving people with great stories. RollingStory's contents have been highly acclaimed by its profound stories and lively graphics, being made into successful movies and dramas, proving its potential for success in different forms of medium as well. Copyright (C) 2015 RollingStory Inc. All Rights Reserved.