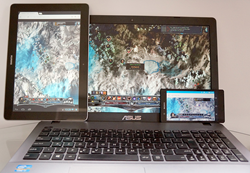 MMORPG playable on any device with a browser and internet connection, without installation.
Norwich, UK (PRWEB) July 14, 2015
Epic Dragon, developer and publisher of online games, has recently launched a Kickstarter campaign for a mobile-friendly MMO named "Flamefrost".
"Flamefrost" is a browser-based isometric MMORPG inspired by the table-top game "Dungeons & Dragons", along with a few classic RPGs from the 90's, re-imagined in the style of modern MMOs.
The game is portable across any devices having a browser and an internet connection, as it runs on pure JavaScript.
It is the first MMO game that would allow its users to play on a phone, but when its battery gets exhausted to pick up any other smart device and continue playing from where they left off without any installation.
It features 140,000 square miles of 3D landscapes and a single-world server technology capable of supporting tens of thousands players online in one game realm.
Flamefrost is also designed to be integrated into Facebook, so that anyone with a Facebook account could get in the game within seconds, without registering.
The game was created by one developer and one artist in slightly less than two years.
Right now the project is in its final stages of testing, but its funding is completely community driven, so Flamefrost's launch will depend on the success of Epic Dragon's crowdfunding campaign supported by future players.
More details about the game can be found in its Kickstarter campaign:
http://kck.st/1NTxBmg
Video featuring Flamefrost's gameplay is available in HD on YouTube.
All project related news and updates are being posted on Epic Dragon's Facebook page and Twitter.
You can also visit Epic Dragon's website directly for higher resolution Flamefrost screenshots and other materials.