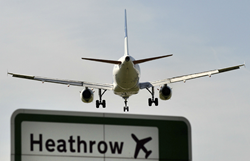 The more direct flights there are from Heathrow to other countries, the lower the costs are to fly there.
(PRWEB UK) 13 July 2015
Global courier Fastlane International warns the cost of international parcels and other airfreight costs could rise if a swift decision is not made following The UK Airport Commission's endorsement of a third runway for Heathrow in its much anticipated new report.
Fastlane's David Jinks MILT says: "Sir Howard Davies' report has come down unanimously in favour of a new runway at Heathrow. With the independent verdict now in, work should commence on the new runway as soon as possible."
Explains David: "It might not be understood by everyone that as well as dedicated cargo flights through the likes of DHL, much airfreight such as parcels is also carried in the hold of "passenger" aircraft. The Airbus A350-1000, for example, can transport 21 tonnes of volumetric cargo and up to 31.3 tonnes of structural cargo, along with its passenger load."
David says: "As the report makes clear, all carriers use Heathrow to some extent, flying to most countries in the world. The more direct flights there are from Heathrow to those countries, the lower the costs are to fly there. If, because of capacity constraints, there are not slots available at Heathrow to fly direct to a particular country or airport, such as US regional airports, then carriers have to fly their passengers and airfreight indirect, via another hub airport. Therefore the cost is higher. These higher costs for transporting parcels and other air cargo have to be passed on to customers."
David points out: "This is why a large portion of British business leaders, and The Chartered Institute of Logistics and Transport, have shown their support for an extension at Heathrow. Heathrow is the most significant airport for freight in the UK – in fact it carries more freight each year than all other UK airports put together."
Adds David: "Many specialist parcels and other freight business are based around this key hub, together with their sorting facilities etc. Yet the report reveals constraints at Heathrow – which is running at over 98% capacity – mean that it is unable to meet demand. Heathrow is currently permitted 480,000 flights a year. All of Heathrow's competitor European hub airports – Paris, Frankfurt, Madrid and Amsterdam – have enough runway capacity to serve around 700,000 flights per year each."
Concludes David: "It has been estimated that UK PLC could be missing out on up to £14 billion per year in lost trade due to poor connections, rising to £26 billion a year by 2030. Certainly if Heathrow ceases to be a competitive hub and instead becomes a spur from other European countries; the cost of international parcels and airfreight to and from the UK will inevitably rise."
For more information about overseas courier deliveries see: http://www.wedelivertheworld.co.uk/international-parcel-delivery/