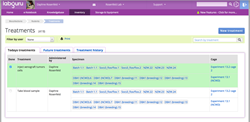 Cambridge, MA (PRWEB) July 14, 2015
Another wave of chemistry feature and an enhanced rodent vivarium module for Biodata's web-based electronic lab notebook and lab inventory management system, Labguru.
With Labguru's e-Notebook researchers interested in chemistry can:

Import structures and reactions from all popular chemical structure drawing packages, including ChemDraw and Accelrys Draw.
Draw structures and reactions directly in the browser, with no software installation (true "zero footprint")
Use auto-generated stoichiometry tables to calculate equivalents, mass, and percent yield, based on reactions in their notebook.
Search their experiments and projects for chemical structures using structure, substructure and reaction transformation search.
Adding deep support for chemistry continues to be a priority for Biodata in 2015. Following quickly after their initial chemical feature release in March, this second phase of chemistry features demonstrates Labguru's commitment to making its leading electronic lab notebook (ELN) and laboratory information management system (LIMS) the leader in chemistry research.
Their partnership with ChemAxon has allowed the Labguru team to rapidly integrate key features for chemists such as complete reaction support, including reaction planning and optimization, along with reaction transformation search. The new chemical search function will also help users properly annotate and find experiments in seconds. Biodata continues to look forward to further developments to enhance Labguru for chemists and biochemists.
Labguru has also release a major upgrade to its rodent colony collection making tracking rodents and treatment groups easier, from vivarium through experiment and pedigrees. This latest group of features completes the entire lifecycle of a rodent making it useful to researchers working on individual specimens to directors or heads of vivariums working with large rodent colonies.
With Labguru's rodent and mouse management system you can track your entire rodent research journey:

Strains, Specimens, and Cages - Manage your colony on all 3 levels
Integrate With Your Research - Link rodents to related projects, storage locations, materials, experiments and results
Reduce Costs - Minimize strain loss and excess breeding
Advanced Search - Using multiple criteria like age, gender, strain, experiment, cage, and color
Schedule and Plan - Plan experiments and receive reminders for maintenance task
With the latest release users can plan and track treatments:
Track the source and treatment history of each specimen
Identify and replace aging and non-productive breeders
Schedule maintenance and experiment tasks, receive reminders
Web-based: Monitor your colony anytime, from anywhere
Labguru's ELN and LIMS system is trusted by major pharmaceutical companies, biotechnology companies, major academic labs, and large research institutions.
About BioData
With offices in Boston, Austin, Tel Aviv, and London, BioData creates digital tools for increasing the productivity of academic and industry laboratories. Its flagship product, Labguru, is currently used by thousands of researchers in hundreds of labs worldwide. Founded in 2007, BioData is a portfolio company of Digital Science. For more information, visit http://www.labguru.com.