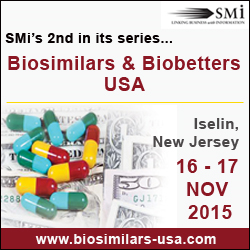 The 2-day programme will offer effective strategies and solutions for developing cost effective biosimilars for the future, through a series of exciting discussions, presentations and workshops, delivered by true biosimilar leaders and industry pioneers
Iselin, NJ (PRWEB UK) 14 July 2015
SMi's conference on Biosimilars & Biobetters USA 2015 will be taking place in Renaissance Woodbridge Hotel in Iselin, New Jersey, USA, on the 16th and 17th of November 2015. The 2-day event programme will offer effective strategies and solutions for developing cost effective biosimilars for the future, through a series of exciting discussions, presentations and workshops, delivered by true biosimilar leaders and industry pioneers. For more information please go to http://www.biosimilars-usa.com/PRWeb
This year's unrivalled speaker line-up includes leading experts representing Sandoz (speaking on their first biosimilar approved by the FDA), ParExel, FDA, Merck Serono SA, Formycon AG, Dr. Reddy's Laboratories, AGES Regulatory Agency, Janssen R&D, IMS Health, Norwegian Medicines Agency, Harvest Moon Pharmaceuticals USA, Austrian Agency for Health and Food Safety, MedImmune, Bristows LLP, Schwegman Lundberg Woessner, Selecta Biosciences, STC Biologics, BioInsights Inc, and BIosimilars AG (Germany).
Featured presentations for 2015 include:

The first biosimilar approved by the FDA. Speaker: John Pakulski, Head US Biopharmaceutical Regulatory Affairs, Sandoz Inc.
Update: Can biobetters or biosuperiors meet the challenges of best in class molecules and cheaper biosimilars. Speaker: Rakesh Dixit, VP, R&D, Global Head, Biologics Safety Assessment, MedImmune
Case Study: Creating biobetters with improved efficacy and safety by addressing product immunogenicity with tolerogenic nanoparticles, Kei Kishimoto, Selecta Biosciences. Speaker: Kei Kishimoto, CSO, Selecta BioSciences
The litigation landscape in Europe- Where are we now? Speaker: Dominic Adair, Partner, Patent Litigation, Bristows LLP
What are the opportunities in America- Where will we be in 2018? Speaker: Cliff Mintz, President & CEO, BioInsights Inc.
The complete 2-day event programme including all speakers and their topics can be downloaded at http://www.biosimilars-usa.com/PRWeb
Biosimilars & Biobetters 2015 event attendees include, but are not limited to CSOs, CMOs, Vice Presidents, Presidents, Heads, Directors, Team Leaders from the following roles: Legal and regulatory affairs, Intellectual property, Regulatory compliance, Pharmacovigilance, New Product Development, and Analytical Characterisation
Plus, the event programme also includes two interactive half-day post-conference workshops:
Workshop A: A Regulatory Perspective on Biosimilars
Workshop leader: Ravi S. Harapanhalli, Vice President, ParExel and former Senior Executive, FDA
Workshop B: Development, Regulatory & Commercial Needs for Global Biosimilars
Workshop leaders: Gerry McGettigan, CEO & Regulatory Expert, and Graeme Deuchar, Product Development Expert, Kinesys Consulting Ltd
Biosimilars & Biobetters 2015 is proudly sponsored by Schwegman Lundberg & Woessner.
Platinum Media Partner – Biosimilar News. Supported by Drug Target Review, Biocompare, Bio-Equip, GenericsWeb, GBi…
For sponsorship inquiries, contact Alia Malick at +44 (0) 7827 6168 or email amalick(at)smi-online(dot)co(dot)uk
For media inquiries, contact Julia Rotar at +44 (0) 20 7827 6088 or email jrotar(at)smi-online(dot)co(dot)uk
To register, contact Fateja Begum at +44 (0) 20 7827 6184 or email fbegum(at)smi-online(dot)co(dot)uk
Biosimilars & Biobetters USA
Iselin, New Jersey, USA
16th-17th November 2015
http://www.biosimilars-usa.com/PRWeb
About SMi Group:
Established since 1993, the SMi Group is a global event-production company that specializes in Business-to-Business Conferences, Workshops, Masterclasses and online Communities. We create and deliver events in the Defence, Security, Energy, Utilities, Finance and Pharmaceutical industries. We pride ourselves on having access to the world's most forward thinking opinion leaders and visionaries, allowing us to bring our communities together to Learn, Engage, Share and Network. More information can be found at http://www.smi-online.co.uk