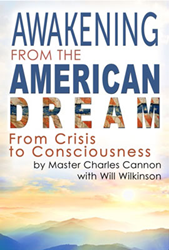 The two instruments combine to produce a notable effect
Faber, VA (PRWEB) July 15, 2015
There's no doubt about the world. It competes hard for the minds and hearts of the people. The days may start slowly on a wholly divine and melodic note of strings and woodwinds. Then, suddenly, reality sounds the charge, moving-in with a clash of cymbals and brass. The headline news blows bye in a barrage, racing to sabotage or override the natural beauty of the moment. The scream state bangs into the dream state.
Rightly so, and from there ensues the never-ending quest for a winning strategy to reclaim sanity and stability, if not serenity. The list of revealed remedies is varied indeed. Aqua, wine, nap, or spiritual, any one of these therapies is known to provide protective cover. But, however effective they may be, how are titanic forces best apprehended and controlled? Perhaps by a glossary of thoughts and terms? International spiritual teacher and author, Master Charles Cannon, in his latest influential book, "Awakening from the American Dream", has again given his readers a battery-pack of wisdom - attractive enough to contend with and dissolve even society's most meddling incursions. The body of his insights form a whole academy of sagacious words. Kneaded by wisdom writer, Will Wilkinson, they speak, like a transcendental poet, of the truth - lyrical and luminous.
Where the American landscape of belief appears to be dimming, his contemplations and glittering collection of words offer a fluorescence and fitting awareness in "there-ness".
Over "there" in the vastness of everyone's intellect rests the subtle, sublime sense of stillness and timelessness. The darken realization, that the promise land of opportunity has taken a recess, is resplendently arrested and replaced by a softer light. Shifting the focal plane moves the lens of the intellect from the external and wearisome to the universal internal light waves of everyone's common sense. It's a little like pointing the binoculars, away from the image of a derelict building in the field of vision, toward the tree-tops, brighten by the poetic play-tones of songbirds in motion, directly above.
His story is more than a happy thought. It ends where it begins, but in a higher octave. "NOW…The Technology" occupies twice the mental state than the book, doubling its ratio of frequency. When time is at hand Master Charles Cannon's modern mechanics of meditation is on hand. Simply start with any stereophonic sound-speaker system, portable i-Pod, MP3, or with headphones. Then push Play on-low. Alpha, theta, delta and subtle gamma frequencies bio-geometrically, and holo-dynamically perform the "synchronicity". This audio-sonic, entrainment technology, a balancing tool, brings first-hand, acoustic quality benefits to its users, such as restoring personal balance. In plain English, these good vibrations entrain, or balance those disturbances to brainwaves, which attempt to push away everyone's otherwise preferred state of equilibrium. His hi-tech meditation technology is for maintaining proper balance. Personal balance is restored quickly and clearly, and the moment is mastered as a matter of fact. Where other techniques fall short, or seem easy to shrug or ill-advise, his high-performance mechanism, in-tandem with his book, conveys a multiplier effect. The proclivity of the one infuses the other with an additional power or increased premium, as the two instruments combine to deliver a notable effect.
Whatever the role of humanity is perceived to be in this epic of evolution, the Synchronicity Foundation is the center of Master Charles Cannon universe. From there his message, appealing to one and all, is about one truth, active awareness and subjective growth, as reflected in the poetry of John Keats's "Ode on a Grecian Urn": "Beauty is truth, truth beauty – that is all ye know on earth, and all ye need to know."
For background, interview, feature, or cover materials, refer to:
Master Charles Cannon
Master Spiritual Teacher of "Modern Spirituality"
Disciple of Swami Muktananda Paramahansa
Author of: "Bliss of Freedom", "Meditation Tool Box", "Modern Spirituality" book and CD set, "Forgiving the Unforgivable" and "Awakening from the American Dream"
Founder of International Synchronicity Foundation for Modern Spirituality, and Synchronicity Sanctuary Retreat Center
Pioneer of the High-Tech Meditation Method "Modern Meditation for a Modern World"
Program Event Host at the Blue Ridge Mountains, Central Virginia International Retreat Center
Web Channel Leader and Teacher @ http://www.schoolofmodernspirituality.com
Phone:
757-644-3400 Ext 3382
Fax:
434-361-1058
Email:
synch(at)synchronicity(dot)org
Primary Website:
http://synchronicity.org
School of Modern Spirituality:
http://schoolofmodernspirituality.com
TV Website:
http://modernspiritualitytv.com
Master Charles Cannon:
http://mastercharlescannon.com