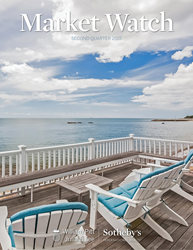 Fairfield and Litchfield, Counties, Conn., Westchester County, N.Y., Berkshires, Mass. (PRWEB) July 13, 2015
A report detailing market results for the second quarter of 2015 in Fairfield and Litchfield Counties and the Shoreline in Connecticut, the Berkshires in Massachusetts, and Westchester County, New York, has just been released by William Pitt and Julia B. Fee Sotheby's International Realty, the company announced today.
The report stated that at the mid-point of 2015, the local markets the company serves are performing well with strong, sustainable activity and sales exceeding 2014 levels in many areas. The quarter also experienced a significant increase in new listings compared to a year ago.
Westchester County overall saw year-to-date sales remaining flat versus the same period of 2014, but strong and healthy without significant quarterly fluctuations. In Fairfield County, sales activity for the first half of the year stands 12% higher than the same period a year ago with unit sales 9% ahead. On the Connecticut Shoreline north of Fairfield County, unit sales and dollar volume are both 10% higher than 2014 in comparing the first half of each year. In Litchfield County, despite the long winter that mimicked last year, the real estate market took off in March, a full two months ahead of 2014, resulting in year-to-date unit sales and dollar volume growing at double digits relative to 2014 levels. The Berkshires recovered from first quarter declines with the second quarter experiencing a 19% unit gain and 38% dollar volume gain this quarter versus the same time a year ago, while year-to-date, the market is still down but catching up quickly.
According to the report, the critical underpinning to the strength in the local housing markets is the increase in consumer confidence, which is 19% higher than a year ago. In response to the growing optimism, new listing activity is now the strongest in years, which has created a marketplace that is competitive for sellers and ideal for value-driven buyers, who are emphasizing pricing and condition above all and are active in the market as they seek to take advantage of historically low interest rates. In analyzing sales performance for properties at different price levels, the report concluded that homes at lower price points continued their strong sales pace from the first quarter but did decline year over year, while the mid and upper ranges improved relative to a year ago.
"We are highly enthusiastic about the remainder of this year," said Paul Breunich, President and Chief Executive Officer of William Pitt and Julia B. Fee Sotheby's International Realty. "We believe that the moderate sales growth we have experienced year-to-date represents a sustainable sales trajectory, and that sales will continue to strengthen, building on the rising consumer confidence as we move forward through the rest of 2015."
The 2015 Second Quarter Market Watch is available for download on the firm's website, williampitt.com.
###
About William Pitt and Julia B. Fee Sotheby's International Realty
Founded in 1949, William Pitt and Julia B. Fee Sotheby's International Realty manages a $3.3-billion-plus portfolio with more than 1,000 sales associates in 27 brokerages spanning Connecticut, Massachusetts, and Westchester County, New York. William Pitt Sotheby's International Realty, combined with partner firm Julia B. Fee Sotheby's International Realty, is the largest Sotheby's International Realty(R) affiliate globally and the 28th-largest real estate company by sales volume in the United States. A full-service real estate firm headquartered in Stamford, Connecticut, William Pitt and Julia B. Fee Sotheby's International Realty provides ancillary services including commercial services through its affiliation with Building and Land Technology, a second-generation development company based in Stamford, Connecticut; William Pitt Insurance Services; and an award-winning global relocation division. For more information, visit the website at williampitt.com.
Sotheby's International Realty's worldwide network includes more than 16,570 sales associates located in 760 offices throughout 60 countries and territories.