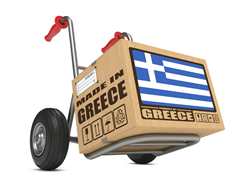 The US sucked in $1.1bn of Greek exports last year.
(PRWEB UK) 13 July 2015
Eurozone leaders may have have agreed to offer Greece a third bailout, but international delivery specialist ParcelHero is warning that there is no room for complacency. It cautions that, if the deal is not accepted by Greece, the immediate consequence of the country crashing out of the Euro and the European Union (EU), would be increased delivery fees and higher import costs.
Speaking before the latest bailout offer, ParcelHero's founder, international courier expert Roger Sumner-Rivers, explained the potential problems to the business website Forbes last Friday: 'If Greece exits both the Euro and the European Union it will have no choice but to impose new excise duty, import VAT and possibly border controls. A go-it-alone Greece will have to set its own rates of excise duty and import VAT for imported products, and establish customs controls, just as fellow European EU outsiders Norway and Switzerland do currently. If this were to occur, businesses and customers will be subject to customs charges (and delays) when receiving and sending goods.'
Roger told Forbes: 'It is likely a stand-alone Greece would immediately follow the example of those other European EU outsiders, Norway and Switzerland. They belong, together with Iceland and Liechtenstein, to the European Free Trade Association (EFTA). If Greece joined EFTA, it would then need, through the Association, to negotiate Free Trade agreements with other countries.'
Roger added: 'Further, if Greece were to find itself outside both the European Union and organisations such as EFTA, even for one day, it is probable that it would have no choice but to act immediately to ensure controls were put in place to apply duty and tax to products imported into the country. Were Greece to introduce border controls, it could have huge implications for business. ParcelHero deliveries from the UK to Greece currently cost less than £20, whereas if the country leaves the EU, and controls were in place, this could easily spiral by 15% or more, affecting businesses large and small, on both sides of the border.
'And the costs don't finish there,' Roger told Forbes: 'If Greece does leave the EU, we have only to compare its costs to those of Norway and Switzerland in order to understand the implications for its economy. For example, Norwegian customs authorities may charge duties and taxes on goods upon import. Although Norway is part of the EEA, and therefore the single market, businesses must complete customs and VAT forms when goods are shipped into and out of the EU.'
This has implications for exporters, warned Roger in the Forbes interview: 'Even for big companies, this is a significant cost and administrative burden, for smaller ones it can be a huge barrier to trade, and SMEs will often steer clear of trading with Norway. Even if they don't, the additional duty and excise costs make their products uncompetitive.'
Finally, the report warns imports into the UK and US may well rise in price if there is no final deal. Forbes reported the US sucked in US$1.1bn (3.1%) of Greek exports last year.
For further information on sending items to Greece see: http://www.parcelhero.com/en-gb/international-courier-services/europe/greece-parcel-delivery