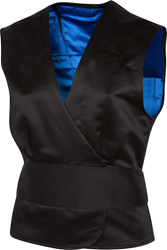 "As it turns out, the simplest, easiest, most time effective way to burn calories isn't actually a diet or an exercise regimen at all, it's cold exposure."
Irvine, California (PRWEB) July 14, 2015
NASA scientist utilizes the science and benefits of mild cold exposure to create the Cold Shoulder Weight Loss Vest, an innovative garment that induces the burning of calories while one is at rest.
While diet and exercise are important parts of the weight loss equation, they aren't the only factors at play. NASA scientist and UC Irvine professor Dr. Wayne B. Hayes knew there was a better way to shed those last pesky pounds than fad diets and hours on the treadmill—which is why he turned to science.
"As it turns out, the simplest, easiest, most time effective way to burn calories isn't actually a diet or an exercise regimen at all," said Hayes. "It's cold exposure."
His invention, the Cold Shoulder Weight Loss Vest, puts downtime to work. It uses mild cold exposure to safely activate thermogenesis--where the body burns calories in order to stay at its ideal core temperature.
"Your body has to maintain 98.6° to be healthy," said Hayes. "So it will go to whatever measures are necessary." In this case, it's raiding fat stores and converting them to heat without any extra exertion on its wearer's part.
Studies have shown that the Cold Shoulder Vest can burn up to 500 calories a day when worn twice daily. That's equivalent to an hour of calorie burning at the gym without even getting up from one's desk or couch.
Wearers simply slip the vest on over their shirt and get on with their day. The ice packs are conveniently distributed over the shoulders and back where the body has the fewest number of nerve endings, making it easy to handle the extra chill.
In conjunction with a healthy lifestyle, it makes shedding those last few inches comfortable and stylish with no unwanted side effects—perks that have quickly made the brand a leading pioneer in their field.
Cold Shoulder LLC was launched by the husband and wife team of Dr. Wayne B. Hayes and Jocelyn Hayes in May 2014. By harnessing the power of thermogenesis to burn extra calories, they are helping countless people around the world reach their weight loss goals safely and effectively. After launching their Kickstarter campaign in early 2015, their first design, the Cold Shoulder Weight Loss Vest, raised over $280K in only 30 days from people in 37 countries. Looking to build on their current success, they're working on a new vest prototype slated to be release later this year.
For samples or additional information, please visit http://www.coldshoulderweightloss.com or contact Nicki(at)veteranpr(dot)com.