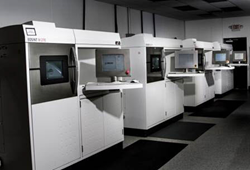 Dexter, MI (PRWEB) July 14, 2015
Recognizing the value of offering both subtractive manufacturing and additive manufacturing (3D printing) in tending to the ongoing needs of its customer base, Protomatic announces the offering of 3D metal printed parts to complement its existing offering of precision machining services.
Additive manufacturing technologies fabricate parts, directly utilizing CAD data, by growing layer upon layer of the selected material. Materials that can be used span a wide range from plastics through metals. Additive manufacturing offers many strategic gains through the evolution of design through to production. These include design freedoms for building complex features, both internal and external; the ability to "grow" multiple iterations simultaneously; and the ability to build functional parts for both testing and end-use applications. It also serves as a viable bridge between prototyping and production, to close the chasm of lead time until receipt of final casted parts.
Not only does Protomatic recognize the importance of 3D printing, so does jet-propulsion giant Rolls-Royce. Speaking on 3D printing, Alan Newby, Rolls-Royce chief engineer for future programs and technology says, "It is ideal for prototyping. Shortening the manufacturing time by almost a third gives us more time to design, which is always a benefit. We are also able to produce designs we wouldn't otherwise be able to do."
Along with time savings, 3D printing also provides cost savings. According to Pratt & Whitney President David Hess, "Additive manufacturing has huge advantages from a cost standpoint. It also eliminates the time needed to develop tooling." In that regard, the additive process provided P&W up to 15 months lead time savings in developing prototypes compared to conventional manufacturing processes.
Protomatic has partnered with a shop that currently utilizes fourteen 3D metal printing machines, with aggressive plans to add many more. Material offerings include aluminum, titanium, stainless steel, Inconel, cobalt chrome and maraging steel. The partnership will serve a multitude of markets including aerospace, energy/oil, medical, automotive, commercial goods, and others. Many markets are already applying the technology to both prototype and production, recognizing that additive manufacturing has the ability to revolutionize each industry.
Already, the FDA is approving medical devices produced via additive technologies. Just recently, the FAA approved the first 3D printed metal part to fly in a commercial jet engine from GE. The growth and application of additive manufacturing (3D printing) is imminent. Protomatic is committed to life-saving precision in solutions that will carry its customers from concept through production.
###
Protomatic is a CNC precision machining shop specializing in prototype and short-run-production components for the medical, aerospace and other technical industries. Because of the critical nature of the parts they design and manufacture, the emphasis is always on Life-Saving Precision.