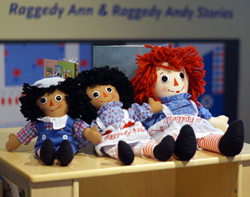 Norwalk, CT (PRWEB) July 13, 2015
The Norwalk Historical Society has generously lent its collection of Raggedy Ann and Andy memorabilia, including original dolls, books, a lunchbox and more for a special exhibit at Stepping Stones in celebration of Raggedy Ann's 100th birthday.
Visitors can see the collection next to Mega Making, and pop in to create their own doll. Then, Stepping Stones will hold its next Storybook Pajama Party on Aug. 28, 2015, with Raggedy Ann. Storybook Pajama Parties promote literacy and positive family interaction in a fun environment that celebrates learning – and what better way to celebrate than with Raggedy Ann, born in Norwalk, whose author, Johnny Gruelle, wrote and illustrated more than 40 Raggedy Ann and Andy books.
Raggedy Ann is a character created by Gruelle (1880-1938), an American artist, political cartoonist and writer of children's books. Gruelle lived nearby in the Silvermine section of Norwalk from 1910 to 1931. As one legend goes – there are a few – one day in 1915, Gruelle's daughter Marcella brought him an old rag doll. He drew a face on the doll's worn fabric. Thinking about a name for the doll, he combined the titles of two poems by James Whitcomb Riley – The Raggedy Man and Little Orphan Annie – to get Raggedy Ann. Gruelle received a United States Patent for his Raggedy Ann doll on Sept. 7, 1915.
The Early Years – Dolls and Books
The first 150 Raggedy Ann dolls were handmade by Gruelle family members. In 1918, Gruelle wrote a children's book about Raggedy Ann called Raggedy Ann Stories. The book's publisher, P.F. Volland, arranged to sell Raggedy Ann dolls along with the books and both were an instant hit. In 2002, Raggedy Ann was inducted into the National Toy Hall of Fame, joined by brother Andy in 2007.
For more information about the Raggedy Ann exhibit or the corresponding Storybook Pajama Party, please call or visit Stepping Stones.
About The Norwalk Historical Society
The Norwalk Historical Society was incorporated in 1899 with the purpose of promoting and encouraging historical research in Norwalk. That vision is kept alive today with the re-establishment of the NHS in 1949 and the continued focus on "the research, preservation, and promotion of interest in the history of Norwalk." The NHS is a non-profit 501 (c) (3) organization, sustained mainly by the generous support of members, donors, grants, program revenues, sponsors and volunteering time in a variety of NHS activities. For more information, visit http://www.norwalkhistoricalsociety.org.
About the company:
Stepping Stones Museum for Children is an award-winning, private, non-profit 501 (c) (3) children's museum committed to broadening and enriching the lives of children and families. Stepping Stones Museum for Children is located at 303 West Ave., Norwalk, CT, exit 14 North and 15 South off I-95. Museum hours are: Labor Day through Memorial Day, Tuesday-Sunday and select holiday Mondays from 10 a.m.-5 p.m.; and Memorial Day through Labor Day, Monday-Sunday from 10 a.m.-5 p.m. Admission is $15 for adults and children and $10 for seniors. Children less than 1 year of age are free. For more information about Stepping Stones, to book a field trip or schedule a class, workshop or facility rental, call 203-899-0606 or visit http://www.steppingstonesmuseum.org.