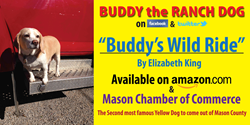 Tucson, AZ (PRWEB) July 13, 2015
They say a dog is man's best friend, and Buddy the beagle proved that last fall when he insisted on hitching a ride on the ambulance carrying his owner to the hospital. Now this inspiring story of loyalty and friendship will be told in an illustrated book for all ages to enjoy, with a portion of the proceeds going to Ole Yellow Animal Rescue, the non-profit animal shelter that was once Buddy's home.
When 85-year-old Texas rancher J.R. Nicholson was rushed to the hospital following a bout of dizziness, his faithful ranch dog, a four-year-old beagle adopted only four months earlier from Ole Yellow Animal Rescue, hopped on board the outside step of the ambulance and rode for miles before being discovered and brought to the attention of the ambulance driver. Alerted by a motorist to the dog's presence, the EMTs brought Buddy into the ambulance, where he rode with his "dad" for the one-hour trip to the hospital. Fortunately, Buddy survived the twisty ride even before being ushered inside. Nicholson was released from the hospital the same day in good condition…with his faithful companion at his side once again.
Now the moving true story that inspired articles all over Buddy's hometown of Mason, Texas (Mason Country News –Online http://www.masoncountynews.com/news/118460/) and across the nation (ABC News-Online http://abcnews.go.com/Lifestyle/dog-hitches-ambulance-driving-owner-hospital/story?id=26971427) has been captured in print by Nicholson's daughter, Elizabeth King, who originally adopted Buddy and gave him to her father. Buddy's Wild Ride, an uplifting story great for kids and adults alike, features illustrations by Tucson, Arizona watercolor artist Meagan Harrington Diaz and color photographs of Buddy and Nicholson. The book can be purchased online via Amazon at http://www.amazon.com/Buddys-Wild-Ride-Elizabeth-King/dp/1511872209. A portion of the proceeds from the sale of Buddy's Wild Ride will benefit the no-kill organization that cared for Buddy until his adoption by Nicholson. Ole Yellow feeds and shelters stray and or abandoned animals while finding them permanent adoptive families, provides spay and neutering services, and offers pet ownership education.
As seen in an adorable color photograph toward the end of the book, Nicholson's four-legged friend continues to ride around the ranch, but in utility vehicles and often on Nicholson's lap.
For interview or more information, contact:
Elizabeth King
Author
(520) 730-1178
menk928(at)msn(dot)com
Karen Gavender
McFadden/Gavender
O: (520) 882-6262
M: (520) 603-4200
karen(at)mcfaddengavender(dot)com
###