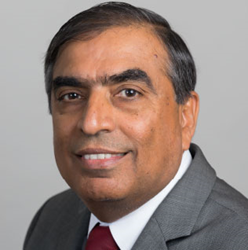 Zipari's elegant and unparalleled blend of healthcare industry experience and deep technological expertise make it the one company that can usher in a new era of healthcare simplicity for all consumers. - Rahul Merchant
Brooklyn, NY (PRWEB) July 15, 2015
Zipari, a healthcare software startup poised to disrupt the insurance and benefits market, today announced IT veteran and business leader Rahul Merchant has joined the company's Board of Directors. With more than 30 years of leadership experience at leading financial Services and high-technology organizations, Merchant's strategic addition to the board will support Zipari's continued high-growth trajectory.
Merchant joins the board having held executive positions at major public and private organizations. As the current chief information officer of TIAA-CREF, a leading financial services firm, Rahul defines and implements TIAA-CREF's enterprise technology strategy. Previously, he served as New York City's first Chief Information and Innovation Officer, where he led efforts to ensure vendors and the city deliver large technology projects on time and on budget and helped turn the city into a world-class technology hub. He has also served as an executive vice president of Fannie Mae, leading the organization through the 2008 economic down turn, and as chief technology officer of Merrill Lynch, where he helped rebuild the company's enterprise infrastructure after 9/11. His involvement driving and implementing leading technology solutions will further spur Zipari's fast paced growth as the leader in insurance customer experience technology.
"We're at the forefront of a revolution in the healthcare and insurance industry. The rise of consumerism makes it critically important that carriers embrace new solutions to get the right health insurance plans and services to the right customer," Merchant said. "Zipari's elegant and unparalleled blend of healthcare industry experience and deep technological expertise make it the one company that can usher in a new era of healthcare simplicity for all consumers."
By enabling health insurers and carriers to have a true 360-degree view of consumers' purchasing behaviors, Zipari gives insurers the ability to understand consumer behavior throughout the healthcare decision making process, which is increasingly important as the number of consumers purchasing their own insurance plans rises in the coming years. Earlier this month, Zipari announced an investment round from Vertical Venture Partners and the launch of their proprietary CX platform with CRM integration, which allows insurers to identify and monitor more than 50 points of customer engagement. The platform captures both customer engagement and sentiment at each touch point while boosting customer satisfaction and renewals in an industry with historically low approval ratings.
"Not only does Rahul bring extensive industry knowledge as a technologist at leading insurance and financial services institutions, his leadership and business acumen gained in the public and private sector will be invaluable as we continue to rapidly expand our products, services and customer base," said Mark Nathan, Zipari's CEO and founder. "Zipari is ready to make healthcare easy to understand by everyone, not only through our innovative customer experience solutions but also by assembling a team, including Rahul, with a track record of leading transformational technology initiatives in sectors experiencing real disruption."
In addition to his roles at TIAA-CREF, New York City, Fannie Mae and Merrill Lynch, Rahul has also served on numerous technology and financial boards, holding advisory positions at Sun Microsystems, Fair Isaac Co (FICO), Level 3 Communications, Juniper Networks, Altico Capital, AASKI Technology, Emulex and Netuitive, as well as an operating partner position at private equity firm Exigen Capital.
"With the launch of the company's CX platform and newly secured funding, Zipari is positioned to disrupt and completely overhaul the insurance industry as it goes through unprecedented transformation," said Merchant.
About Zipari
Zipari is disrupting the healthcare industry with its proprietary CX Customer Experience platform. Zipari streamlines processes, improves efficiency and integrates with major CRM solutions. The result is increased conversions, reduced acquisition costs and improved member satisfaction. Zipari is passionate about utilizing its extensive healthcare experience and technology to improve consumer satisfaction. Based in Brooklyn, New York, Zipari's primary investor is Vertical Venture Partners, a venture capital firm focused on investments in vertical markets. For more information, visit http://www.zipari.com.