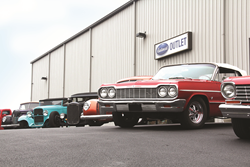 Being able to serve our customers and help them "do the job right" on their projects is our top priority
Pottstown, PA (PRWEB) July 13, 2015
The Eastwood Company, a leading supplier of automotive restoration tools and finishes, sustained fire damage to its headquarters in Pottstown, PA, on July 9. No one was injured in the fire, which was contained to a small section of the building; however parts of the warehouse and distribution center were severely damaged, affecting the company's ability to ship customers' orders. Smoke and water damage as a result of the fire also affected the company's offices and contaminated merchandise in the adjacent portions of the warehouse.
The Eastwood Company's shipping operations have been temporarily delayed while fire investigators and cleanup crews continue their work. Eastwood is working with vendors, business partners and local authorities in assessing the situation to be fully back in operation, as soon as possible. Customers can continue to place orders on eastwood.com and Eastwood will provide shipping updates, as they become available.
"Eastwood apologizes for the inconvenience and thanks our customers for their business and understanding during this temporary setback," said Brian Huck, Eastwood's President and COO.
The company will open its Pottstown retail store today, and Eastwood's retail store in Alsip, IL, which opened in April last year, has remained open throughout this event. If customers have any questions, they are being asked to email orderhelp(at)eastwood(dot)com.
In an email to employees, Huck stated, "In our 38-year history, we've had other setbacks. We have always come away stronger than before and I have no doubt that will once again be the case. Eastwood is well on its way to recovery and our team is doing an amazing job. Being able to serve our customers and help them "do the job right" on their projects is our top priority."
Eastwood markets unique tools and supplies for repair, restoration, and modification of cars, trucks, and motorcycles. Founded in 1978, Eastwood lives by the motto "Do the Job Right" and strives to develop new products to serve the home automotive hobbyist, as well as individuals and organizations focused on the restoration and preservation of automobiles and motorcycles. For more information on Eastwood, contact Nick Capinski – ncapinski(at)eastwood(dot)com or 610-705-5404.